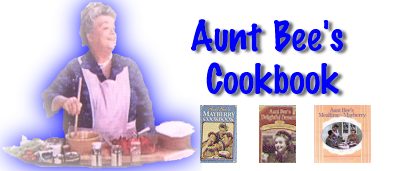 Fish/Seafood
Cajun Shrimp Appetizer
Posted by:
Opie
on 12/27/97 18:19:27 CST
These are great tasting shrimp and not too spicy so everyone can enjoy them!

3 Qt water
1 large lemon, sliced
4 lbs unpeeled, large shrimp (you can use frozen, precooked shrimp)
2 c vegetable oil
1/4 c hot sauce (or more)
1 T minced garlic
1-1/2 t each of seafood seasoning (Old Bay, etc.), basil, oregano, tyhme, fresh parsley, and rosemary

If using fresh shrimp, bring water and lemon to a boil; add shrimp and cook 3-5 mins until shrimp turn pink. Drain well and rinse with cold water. Chill. Peel and devein shrimp (if necessary). Place shrimp in heavy-duty ziplock bag. Combine remaining ingrediants, stir well and pour over shrimp. Seal bag (very important) and marinade in refrigerator at least 8 hours. Drain and serve.

These are even better if served warm.
Return to Recipe List
---
Return to
Aunt Bee's Cookbook menu