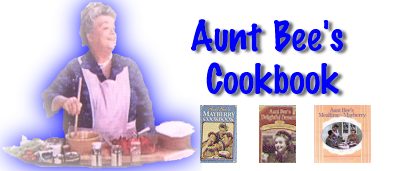 Fish/Seafood
Easy Shrimp & Pasta
Posted by:
Opie
on 06/14/98 08:40:59 CDT
Step 1
2 T olive oil
1 lb shrimp, shelled and deviened
2 cloves garlic minced or thru a press

Step 2
1 c water
1 c white cooking wine
1 pkg Knorr Vegetable Soup & Recipe mix (same one used in the popular spinach dip recipe)
1 t oregano (the secret ingredient!!)
1/4 t crushed red pepper

Step 3
1 lb angel hair pasta

Heat oil and saute garlic (this releases the flavors into the oil) and then add the shrimp. Cook until lightly pink - 3-4 min max. Take shrimp out and add the Step 2 ingredients. Bring to a boil and then lower heat to reduce stock to a thin sauce, stirring occasionally. Add the shrimp again to warm it back up and serve immediately over or toss with the cooked pasta. Goes well with garlic bread, a green salad and a sweet white wine.
Return to Recipe List
---
Return to
Aunt Bee's Cookbook menu