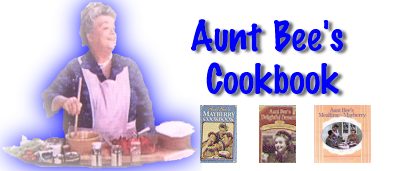 Fish/Seafood
Shrimp Etouffee
Posted by:
Opie
on 03/09/97 19:13:47 CST
CRAWFISH ETOUFFEE (A-too-fay)

This is a wonderful cajun dish that Andy and Barney would have enjoyed if their car wouldn't have broken down on their way to New Orleans.

1 STICK MARGARINE
1 LB CRAWFISH TAILS, (OR SHRIMP) PEELED
1 MEDIUM ONION CHOPPED
2 RIBS CELERY, CHOPPED
1/2 BELL PEPPER, CHOPPED
1 TBLS. PAPRIKA
1/2 TSP SALT
1/4 TSP BLACK PEPPER
1 CUP CHICKEN BROTH
1 TBLS. PARSLEY CHOPPED
1 TBLS. GREEN ONION TOPS, CUT WITH SCISSORS
COOKED RICE

DO NOT USE BLACK IRON POT (DON'T KNOW WHY).

WASH CRAWFISH AND COOK FOR 2-3 MINUTES IN THE BUTTER. REMOVE CRAWFISH WITH SLOTTED SPOON AND SET ASIDE. ADD ONION, CELERY, BELL PEPPER, AND SEASONINGS. RETURN CRAWFISH TAILS TO PAN AND ADD CHICKEN BROTH. STIR AND COOK SLOWLY, COVERED, FOR ABOUT 40 MINUTES. SERVE ON HOT RICE AND SPRINKLE WITH PARSLEY AND GREEN ONION TOPS. SERVES 4.

FREEZES WELL.

INSTEAD OF SHRIMP,YOU ALSO CAN SUBSITUTE
CUT UP BONELESS CHICKEN BREAST.
Return to Recipe List
---
Return to
Aunt Bee's Cookbook menu