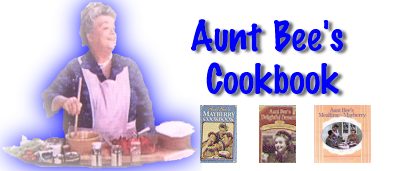 Fish/Seafood
Baked Trout Montbarry (Mayberry)
Posted by:
Opie
on 03/23/97 17:54:38 CST
BAKED TROUT MONTBARRY

It isn't a misspelling. This is from the Gilroy, California "Garlic Lover's Cookbook." Gilroy is the self-proclaimed "Garlic Capital of the World" and has an annual Garlic Festival with garlic EVERYTHING, including ice cream (no I haven't tried it, but hope to some day). This recipe caught my eye for the name and thought it would be appropriate.

4 T butter
1 T finely chopped parsley
1 t finely chopped onion
4 minced cloves of garlic
3 T finely chopped mushrooms
6 trout
salt and pepper to taste
4 egg yolks
3 T brandy (and a shot for Otis)
5 T soft bread crumbs
5 T grated parmesian or ramano cheese
dash of paprika

Use 1 T butter to coat baking dish. Line with mixture of parsley, onion, garlic. Sprinkle mushrooms on top. Lay trout on that. Pour 2 T melted butter on top and cover the dish with brown or wax parchment paper heavily buttered with remaining 1 T of butter. Bake at 400 for 10 min. Meanwhile... beat egg yokes well and add brandy. Remove paper from trout and pour over fish. (don't worry about the raw egg - the brandy cooks the yoke). Sprinkle with bread crumbs and cheese then paprika. Serve in the baking dish.

When you serve it, you can call it Baked Trout Mayberry and tell 'em Opie says good eating.
Return to Recipe List
---
Return to
Aunt Bee's Cookbook menu