123. [6-13] 2/28/92   THE BIG PAYOFF

        A colorful insurance investigator asks Michelle to help him
        peel the layers from the alibi of a husband suspected of
        killing his wealthy wife.

        w. Gerry Conway story by Joel Steiger  d. Leo Penn
           music by Steve Tyrell

        Max Sugarman.................Max Alexander
        Billy Wheeler................Randy Travis
        Richard Maitland.............Franc Luz
        Peter Angelli................David Spielberg
        Kevin Maitland...............Jeffrey Hayenga
        Grace Unger Maitland.........Lynne Cormack
        Female Model.................Sandy Dell
        Guard........................Jesse D. Goins
        Director.....................Duke Moosekian
        Maid.........................Virginia Watson
        Counterman...................Buddy Bryan
        Technician...................Skip Harris
        Talk Show Host...............Harry S. Murphy
        Talk Show Host...............Suzanne Schnolle
        Lisa Loomis..................Bobbie Phillips
        Kevin's Lawyer...............Lou Beatty, Jr.
        Bob..........................Nick Tate

---
Crooner Randy Travis turns up on 'Matlock'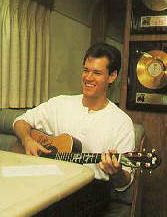 Country music star Randy Travis is a major Andy Griffith fan: He carries a complete collection of The Andy Griffith Show on his bus.
So naturally he's thrilled to guest on Griffith's NBC series, Matlock, Friday night (8 EST/PST) . ''Every once in awhile he starts talking and you close your eyes and you'd think he was on the set of the old Andy show,'' says Travis, who plays a hitchhiking house painter Griffith picks up and hires. Of course, it turns out Travis is better at singing than painting, so he and Griffith, an old crooner, team up on a recent Travis song, Forever Together.
Travis, 32, who had a bit role in the movie Young Guns and sitcom Down Home, joins the list of country stars making forays into acting, including Reba McEntire, Dwight Yoakam and K.T. Oslin.
Is more acting in his future? ''I'm definitely serious about it, but at the same time we're not jumping at everything that goes by. We've had a lot of offers, but it's sort of like music: You do what you want to do, what makes sense to you.''
Randy reprises his role as Billy Wheeler in Matlock episode #134-The Mark.