---
December 03, 2003 - Msg 17363: Same back at you Mary Wiggins. So how do them pistons look this year? I am very suprised at how well the Jazz are doing without Stockton and Malone.
I know what you mean about them weather predictions auh2o. Can't tell you how many times I have to go shovel 4 inches of partly cloudy off my driveway. And yet I still listen to them. Go figure!
I agree with you Sterling about the X thing. It is always Christmas at my house.
I'm gonna guess Otis is who was born there in Michigan pipeman.
Boo and Ro, we want a full report about your hooking up. That will be a blast for you.

Asa

---
December 03, 2003 - Msg 17364: Wow, I actually cleaned this place up. LOL

Asa

---
December 03, 2003 - Msg 17365: Mary, I hear ya. In fact, I am puttin' up a
CHRISTMAS tree here on the west end of the porch,
complete with that "fresh, shipped-in, oregon
pine scent." Now I need to ship in some of your snow...sur looks beeeeeutiful!
Mr Darlin's Cuz


---
December 03, 2003 - Msg 17366: asa== good to hear from you, you got it otis was borned in michigan, had several quesses and had to give a couple of clues. mr darlins cuz=== was that fresh organ pipe scent shipped? tee-hee. wonder what's for supper and where? sure could use a good one or it's left overs for me. do you suppose there's a reason it's left over? pipeman

---
December 03, 2003 - Msg 17367: Very funny pipeman, as in "organ pipe cactus"
I take it. I'll have to git Ernest T Bass to
throw a rock thru your win'da!
No soup for you!, Oops, wrong show.
Mr Darlin's Cuz

---
December 03, 2003 - Msg 17368: who was the sultan's favorite? pipeman

---
December 03, 2003 - Msg 17369: mr darlin's cuz==good one, i'll smoke the peace pipe, if you don't cut my squeezins out or my soup. please anything except ernest t. i'd have to put up new rubber windows so his rocks will bounce back at him. what do you think? pipeman

---
December 03, 2003 - Msg 17370: Haha, I love Seinfeld, Mr. Darlin's Cuz.
Has anybody gotten the Andy Griffith Show 2004 calendar? I got mine in the mail over the weekend... it's nice! Real nice.
- Hazel

---
December 03, 2003 - Msg 17371: Hey to the porch! I haven't had a chance to stop by lately. I hope everyone is having a good week so far. We're expecting wintery weather tonight. Sometimes I LIKE to see snow.
--Emma

---
December 03, 2003 - Msg 17372: I just read on the net that in a godda da vida stood for "in the garden of eden." Don't know how much truth there is to it. Hey Banjo Jerry, do you know Look Down That Lonesome Road? If there is anyone out there who can sing like Rafe, join in. Ya'll know how much I love Rafe's voice.
fun girl

---
December 03, 2003 - Msg 17373: Look downnnn, look downnnnn, that lonesome rooaaddd, before you travel onnn!

Asa

---
December 03, 2003 - Msg 17374: Asa, would you be so kind as to favor us with another selection? How 'bout good 'ole 14-A?

~ Mrs. Wiley

---
December 03, 2003 - Msg 17375: hey SOUTHERN end of the porch, the west end has already got there tree up, yall want me to go down to the south 40 and cut us one? Who has some extra lights?..jingle bells ,jingle bells,.I"ll get a big tree 10 ft. or so.we can decorate it after supper tomorrow!..I"ll do breakfast in the morning ,link sausage,scrambled eggs with cheese and toast,[kinda a light breakfast].oh - and OJ..signed: Spot the Christmas tree cutting dog of the great porch of mayberry !

---
December 03, 2003 - Msg 17376: Ro and Boo, I can't even say you two girls names in the same sentence correctly. In Asa's message that swept the porch I read them Roo and Bo!! How funny. Sound like cartoon characters! Glad somebody finally cleaned up around here. Hey pipeman, Sultan's favorite was Jerry Van Dyke. Is that what you's lookin' for? Banjo Jerry. Only he was one-man band Jerry! Hey Mary Wiggins, I did get to watch Charlie Brown Christmas last night. For once I didn't miss a show! Good to see you Sterling Holobyte. Where you been?
Charlotte Tucker

---
December 03, 2003 - Msg 17377: It's sooooo cold!!! This weather is like the middle of Jan. for us. I always thought I would like to live somewhere like Colorado or Wynoming but I don't think I could take the winters.

Mr. Darling's Cuz--Yes I am really from NC. When I went to college at East Carolina(Go Pirates!) there were these two girls who were from New Jersey that lived beside us in the dorm. Everytime her mom called she would put me on the phone so her mom could here me talk.

Boo-We have the baby gate and the baby monitor. I am just afraid he will get hurt when he takes a notion to escape. I think I will lay some extra pillows on the floor just in case.

Did anyone here about the elderly lady who got arrested b/c she would not shovel her walk in Canada?? What is the deal with that???

Emma-I like to see snow just as long as it is gone by the next day or two.

My husband ordered something from Weaver's for my present. I was going to take a peek but he had already wrapped it.

Gotta go. Have to be at work at 0600.

Sleep it off Tiger.

County Nurse,
Stem NC

---
December 03, 2003 - Msg 17378: Now don't be peeking, County Nurse. Surprises are much more fun.

Hope you are all having a great evening. We had our annual church "greening" ceremony in which we have a nice candlelight service. Our little church was beautiful. I wish you could have all been there to see it.

Well, tomorrow is a very busy day for us. I still have laundry to do and packing and we have a Christmas parade to be in tomorrow night. My little boy will be on a float and I am decorating a wagon with tinsel and battery-powered lights to pull my little girl in. I will be wearing a large cardboard box wrapped like a present! I will also wear my elf hat. Should be fun. We are representing a local charity that my sister runs called Christmas For Kids. Its like a Toys For Tots for our county.

Well, better go spend some quality time with the family.

Later,

Boo

---
December 03, 2003 - Msg 17379: Hey Boo, county nurse, Ro, and all the ladys on the porch!got wheat straw all in the dog house now keeps me warm, also got a afgan that mayberry girl made me a loan of, will have the tree for the southern end of the porch tomorrow, who all is coming to the decorating party? it will be after supper tomorrow,hey BDJ may need another jug of squeezings for the party , down below freezing here in Ga. well gona take a nap, yall dont step on my tail I"ll be on the porch till bed time then to the dog house signed: Spot the "gona take a nap" dog of the porch !

---
December 03, 2003 - Msg 17380: Evening Porch~Still here with just my 4 legged kids & me, hoping my significant other doesn't get stranded in that snow, I am in the same neck of the woods as Emma so yep, snow is on it's way here too & no, I don't like to see snow. I ate a bunch of cookies AND some crackers in bed last night whilst I was reading & I ain't ashamed not one little bit!! There I said it & I ain't takin it back! Anyways, I'm off to bed, crackers in hand, & I'll see you fine folks tomorrow.
*Mavis
move over, I'm drivin!

---
December 04, 2003 - Msg 17381: Hello Hey and Howdy to all the porch sitters, it's the Sultan of the South End checking in tonight. Not as cold here tonight as it has been lately, it's about 58 degrees and cloudy at midnight, in St. Augustine, Florida.
Charlotte Tucker, wow, somebody actually knows who I am! Cool beaners! The Sultan's favorite was actually the goochy-hoochy dancer as Clara so aptly named her, but I seem to recall her name was Alice? I'll have to check my little black book, heh heh. I lost touch with her when I left to go on tour with Iron Butterfly and The Blues Magoos. Wow, the 60's ARE kind of a blur to me now though.....wheeee.
Okay....it's singalong time! See if you know this one....
Grasshopper sittin' on a railroad track, singin' Polly Wolly Doodle all day...pickin' his teeth with a carpet tack, sing Polly Wolly Doodle all day!
Fare the well, fare thee well, fare thee well my Fairy Fay,....for I'ze a-goin to Looleyanna for to see my Sooleyanna, sing Polly Wolly Doodle all day!
Well I went to the river but I couldn't git across, Polly Wolly Doodle all day.....Jumped on a guitar 'cause I thought it was a hoss, Polly Wolly Doodle all day!
Fare the well, fare thee well, fare thee well my Fairy Fay, for I'ze a goin' to Looleyanna for to see my Sooleyanna, sing Polly Wolly Doodle all day!!!......
Ohhhh, man I'm laughing so hard I can't play anymore...somebody he'p me! You guys did great on your solos, but it was Spot's HOWLING that cracked me up!!
Have a great night, love, Banjo Jerry


---
December 04, 2003 - Msg 17382: "AAAAAOOOOOOOOO, AAAAOOOOOOO,banjo jerry ya got me all tore up !goober got to hollering at me thought i was getting beat by the neighbor hood mean kids !whew,signed: Spot the HOWLING dog of the porch.people are throwing pots and pans at me .."OUCH"...

---
December 04, 2003 - Msg 17383: Ha ha, fun girl, I don't know about "in a godda da vida" actually meaning "in the Garden of Eden" for real but there was a Simpson's episode where Bart changes the words of the song to "in the Garden of Eden" and brings them to church; giving the sheet music to the organist who plays it while everyone thinks they are singing a hymn. It was pretty funny!

Hey Charlotte, I've been around. Just haven't been on the computer too much. I'm trying to rectify that, but it is difficult.:)

I hope you have a good time at the Christmas parade, Boo! That does sound like a lot of fun! Just don't let anyone shake you!

Banjo Jerry, I think the 60's were kind of a blur to everyone. :)

Have a good night everyone!
-Sterling Holobyte

---
December 04, 2003 - Msg 17384: Well I think winter has finally hit my end of the porch, been snowing since midnight here and getting more of it. Got my furkids inside as well. They dont like that white stuff either. Hope everyone is warm and safe tonyte. But I got my Andy tapes and DVD's and plenty of Coffee.. so I'm set unless the power goes out LOL Ya'll take care--Salty Dog

---
December 04, 2003 - Msg 17385: well it's 4am and just enjoying the visit from so many.does one's heart good. wonder where some of our missing is doing? tom, shoe, mountain girl,barney buff, fast gun fife, mayberry girl, hank so many we need to keep in our prayers for safe return. oh pipe down otis just pipe down. pipeman

---
December 04, 2003 - Msg 17386: well morning porch,breakfast will be served soon,got the sausage links frying and breaking the eggs now,pop tarts for the kids..signed: Spot the gona go cut a Christmas tree for the southern end of the porch dog of mayberry

---
December 04, 2003 - Msg 17387: what chu doing up at 4 am pipeman?spot

---
December 04, 2003 - Msg 17388: charlotte tucker== good guess jerry was right the sultan had a favorite hoocy-goocy girl her name was francis not alice. hope you have a great and safe hollidays, county nurse== just shook my head about that poor elderly woman, if she lived in mayberry unless she fenced cars or clanged she would have been ok. boo= sounds like such a beautiful night last night. mavis== we're expecting about 3 inches on the middle porch, you drive pretty now barney's running speed and saftey checks.fun girl== baton down the hatches and get the carrige out for the next few days. sounds like asa has you covered on the singing, don't asa sing pretty? asa== are you ready for the ho-ho day? pipeman

---
December 04, 2003 - Msg 17389: emma== snow already where has the seasons gone? you or mavis heard from fast gun fife?Don't they sell a lot of fireworks in your neck of the woods? i use to go thru there between alabama and illinois trips it's been a few years though. hazel== where did you get your andy 2004 calandar at weavers? i have a whole den of mayberry collectibles, building a 4x4 diaroma of mayberry.can't you tell i'm not the least bit interested in mayberry? ha. spot== the semi load of decorations are on the way, with your good cooking, trimming the tree, music squeezins, life don't get much better, see you at supper. sterling holobyte== you got that right the 60's were a blur can't remember anything except mayberry happenings must be shell shock. i think 2000-2010 may be another 60's. everthing moving so fast for us youngsters these day's. salty dog== we'll send you an extra genarator as a back up, want you and yours alright. pipeman

---
December 04, 2003 - Msg 17390: one last thing== i read a commentary yesterday about how people normally good to each other become idiots over present shopping.most end up broke, exchanged, a lot collect dust. the point that caught my attention was the author was about to pull into a parking place when some old coot(about my age) cut me off, and everyone in the parking lot started laughing at the old coot, or was it me? pipeman

---
December 04, 2003 - Msg 17391: Well pipeman, as far as Asa's singing goes.....he's a dear man. I love him to death. He is a tremendous baseball coach and a good neighbor to boot. But he can't sing...not a lick.

Hey Asa, awhile back when you were searching for the lost girl, did that happen to be Elizabeth Smart? Just wondered. I remembered that you searched, but my connections in my head ain't so good and I ain't recollectin' it like I should.

As another year draws to a close....

Sometimes, not often enough
We reflect upon the good things.
And those thoughts always center around
Those we love,
And I think about those people
Who mean so much to me
And for so many years have made me
So very happy.
And I count the times I have forgotten to say
Thank you and just how much I love them.

I'd like to lay claim to those sentiments, but I can't. It was a song from a Carpenters record, but it is truly how I feel about you my friends.
There, I said it and I ain't taking it back.

"What it does is give you a buzz." That may be my favorite scene in all of TAGS. When all the church ladies are in the jail cell. It's a knee slapper for sure.

Take care and stay warm.
Oh hey possum, got me some neck sugar from little Rosa last night. Got a little story to tell. It's
kinda gross. On Saturday I was playing with Rosa. She has learned to kiss, but she does it with her mouth open, so I held her up to kiss her and she barfed in my mouth. YUCK! Later one of my darling boys said, "Hey, you had a Rosachino." He's real funny. Why don't he go down to the old folks home and loosen the bolts in the wheel chairs.

Later friends.
fun girl

---
December 04, 2003 - Msg 17392: fun girl== that boy sounds like he has hung around me, i'm always pulling something. spot== i was up at 4am so i could take several gifts back, while everyone is gone, won't they be surprised when presents are opened? while in their state of confusion i'll eat the chow. how does that sound? THINKING CAPS ON? WHAT WAS OTIS'S WIFE'S NAME? pipeman

---
December 04, 2003 - Msg 17393: Hey all,
I hope ya'll had a wonderful Thanksgving. Fun Girl, thank you for that image of having a mouthful of throw-up. It will haunt me forever! I hope everyone is doing well. Take care and have a Mayberry Kinda Day.

Ed Sawyer

---
December 04, 2003 - Msg 17394: Thanks Sterling. I am sure I will enjoy the Christmas parade. The weather is perfect for it today. Dry and in the 60's. Speaking of the 60's, I was too young for them to be a "blur" but some of the 70's were a blur! Luckily I missed the sexual revolution and all the drugs. I grew up in a small town of about 4,000 and we didn't get into too much trouble (my Dad was the town judge so I was afraid to take drugs). We sometimes got a little drunk on the weekends but that stopped when I got out of high school and into college (haven't been on the squeezins since).

Thanks for sharing that charming little story about Rosa....NOT! EEW Gross! Well, I guess if its going to happen, its good if its a sweet little baby, right? heehee Actually, I am sure it has happened to me before. I have an even grosser one; about 15 or so years ago while I was working in labor and delivery we used to have these little suction devices that we used to suction newly born babies mouths and noses. We called it a "trap" and it was a closed little bottle with two tubes coming from the top. One of the tubes went in the babies mouth or nose and one went in the nurse's mouth and the nurse actually sucked on the tube and all the mucus and fluid from the baby would drain into the little bottle (I can't believe we actually used to do that--that would never be done today). Well, one night I was assisting in a delivery in which the baby had a bowel movement inside the mother before it was born so he had swallowed what is called Meconium amniotic fluid and its green! Anyway, I am sure you have already guessed what happened. I got a mouth full of meconium amniotic fluid while suctioning the baby. It was really awful and I will never forget the salty taste. Ok, did gross you out fun girl??

Gotta go...so much to do today (I have a wagon to decorate!).

Boo

---
December 04, 2003 - Msg 17395: OOOOOOK! (enuf with the vomit etc)9hehe)Let's change things a bit...
How about this for all the snowbound:
"Welcome sweet springtime we greet thee in S*NG!"
Chior director:" I think I detect someone off just a bit on that chorus."
Fun girl-should we wax the steps too?
and did you say "Darling boys?" I know THEM!
"You beat ever'thing, you know that."
County Nurse, my sister in law visits Hilton Head each winter, but I guess that's SOUTH Carolina.
Banjo Jerry, two houses down from me in Tempe, AZ,
people meet for a bluegrass jam session every wed evening. It is really neat. I dont play, but I like to sit and listen once in a while, and play my imaginary "jug."
I've got my cactus all decorated here on the west end.
One trivia question:
What's the only episode (that i know of) where we SEE barney's mother?
Mr Darlin's Cuz


---
December 04, 2003 - Msg 17396: If I am not mistaken Otis' wife's name was Rita? Or have I been hitting the squeezins again? I don't remember what the episode was called, but wasn't Barney writing her a citation and she says, "But Barney, I'm your mother."

Okay, Boo and I have grossed out the whole porch. I think ya beat me out Boo, in a gross out contest.

Lots of luck to you and yours.
fun girl

---
December 04, 2003 - Msg 17397: Mercy! I think Boo wins the groos out award. Wonder what she'll get? LOL
Hey Fun Girl, that was Elizabeth Smart that I helped search for. What a great ending to a story huh? She seems to be doing remarkebly well.
Your right about Rita being Otis' wifes name. And Barney's mother was in episode #2 I believe. Manhunt. Barney is checking all vehicles leaving Mayberry and is seen friking his mother as she is saying, "but Barney, I'm your Mother". TV land cuts this part out, the black hearted buzzards!
I was gonna sing 14A for you Mrs Wiley but Mr. Darlin's Cuz beat me to it. He sings better than me anyway.
I was wondering what everyone's favorite Christmas movie is.

Asa

---
December 04, 2003 - Msg 17398: fun girl you got that one right. great job it's dashing thru the snow time i believe, don't you? boo== that is what we get for trying to help, nothing but heartache i tell you. asa== good to hear from you, sounds like get an a on mayberry stuff. keep in touch. mr darling cuz== sounds like the west end of the porch is covered with you and banjo jerry. does he really play the banjo? you can tell me your secret is as safe as the gold shipment and barney. let's meet at spots for supper and help him decorate his dog house, yard, etc. such a nice fellow don't you know. pipeman

---
December 04, 2003 - Msg 17399: Why, "It's A Wonderful Life", of course! But I really LOVE Jimmy Stewart. I have seen most of his movies and I think they are all gems. Here's a did you know...Did you know that "Sesame's Street"'s Bert and Ernie are named from characters in "It's A Wonderful Life"? I believe one was the taxi driver and the other was a cop. You see them together in the scene were George and Mary were spending their wedding day evening in that old broken down house, among other scenes. I must have watched that movie...well, a LOT!

Where's that Romeena? We need her to grace this porch with one of her beautiful posts. Maybe we can get her (and everyone else) to recount an especially memorable Christmas. Romeena, you write so beautifully, so please...purty please...tell us a story!

Hey to Asa, pipeman, fungirl (ewww), possum, Salty Dog, Boo (double ewwww!), Mr. Darlin's Cuz, Briscoe Darlin Junior, Ed Sawyer, Sterling Holobyte, Spot the ever fun-loving talking dog of Mayberry, Banjo Jerry, County Nurse, Charlotte Tucker, and every other porchster! Holiday Greetings!

Mary Wiggins

---
December 04, 2003 - Msg 17400: Asa, yes episode #2 is the one! You guys are too smart for me. Why does TV Land cut that part out about his mother? More commercials or PC?
I'm with Mary on the movie. I'm a softy for "Wonderful Life." I have the colorized version but actually prefer the B/W.
Mary, you did a pun and didn't even know it about a "porch post." (Or maybe you DID know it!) :)
Last night on our local channel was the episode about the publisher getting a ticket. Barney does his great speech about the fact that Andy couldnt be a better friend to all. Great episode.
Ya all take er easy. This here cuz is jest gonna rock for a while.
Mr Darlin's Cuz

---
December 04, 2003 - Msg 17401: otis"s wife"s name was rita...got the tree cut guys and stood up but the porch!..whose cooking supper tonight? we can sip and decorate after supper!..hey Mary wiggind ,fun girl, mayberygirl, asa,Hm Ro, Boo,Plum,mr darlins cuz.pipeman,yall come and get in the spirit and lets have a tree decorating party!..signed: Spot the fun loving tree decorating wanting to know whose cooking supper talking dog of the GREAT porch of mayberry!

---
December 04, 2003 - Msg 17402: I'm ready fer some gooood vittles! Who's a fixin' them tonight? Talkin' Dog, ya got somthin' a cookin'?
MDC (Mr Darlin's Cuz)

---
December 04, 2003 - Msg 17403:
Oh, brother. You guys know I have a weak stomach. (My mother was the same way).
- Hazel

---
December 04, 2003 - Msg 17404: How bout a pork roast tonight? baked beans, potato salad?..i"ll do the roast and beans , who wants to bring the potato salad?..put mustard in it and onions !go to get these light untanggled for the southern end tree lighting. what a mess!.whoses got a star for the top?.signed:Spot the pork roast cooking mixed breed dog of the Great southern end of the porch!

---
December 04, 2003 - Msg 17405: mary wiggins== are you snowed in yet? we're suppose to get about 4 inches tonight. my favorite christmas movie is the original christmas carol. i'm the only nut who laugh's about it, thing's like when the buisness people want a donation to the children's orphanage and scrooge asks did it burn down are they homless then be gone. when bob crachette gets a piece of coal. scrooge i gave you a lump 3 day's ago and you wasted it now steal mine, all the time his fire is roaring. mrs wiley== miss you hope your ok. pipeman.

---
December 04, 2003 - Msg 17406: I am sure that there are more touching Christmas movies, but I sure do love Home Alone 2 for a good belly laugh. Especially the part where Marv gets paint all over his face and goes to wash it off and Kevin has the faucet rigged with that electrical doo hickey. Then he gets shocked and starts sing-screaming. HYSTERICAL Also the part where Harry's hat catches on fire and he tries to put in out in a toilet full of kerosene. I am sitting here chuckling just thinking about it.

later friends
fun girl

---
December 04, 2003 - Msg 17407: Has anyone ever noticed what a funny word toilet is. No I haven't been in the cooking sherry. If I didn't know better I'd say I was tiddly. But I won't even let fruit cake in the house on accounta a brother I had. LOL I just tickle myself so!!
f.g.

If a merry heart doeth good like a medicine, then I'm in fine shape tonight.

---
December 04, 2003 - Msg 17408: Suppers ready!..anybody make potato salad?.got the pork roast carved , nice and tender.pouring the sweet tea now ....lets eat...signed: Spot the supper serving dog of the porch..

---
December 04, 2003 - Msg 17409: I'll be right over, bringin' fun girl with me
and the boys. Good vittles and some pickin'.
I think Chistmas Story is pretty good too. Of course, ya cant beat THE Christmas story!
78 again on the west end.
MDC

---
December 04, 2003 - Msg 17410: Let's hear it for the Christmas Story - you'll shoot your eye out!
And who can forget Bing and Danny in "White Christmas?" That is my favorite - When you're troubled and can't fall to sleep - try counting your blessings! Rosey and Bing sing that one over a glass of milk I do believe.
Good to see you all again. .


homemaker

---
December 04, 2003 - Msg 17411: Evenin' Y'all! Yep,we need a tree here on the Southern end of the porch,spot! You cut it and I'll decorate it. Gonna string some popcorn & cranberries ( I actually used to do that when I was a teenage possum) and we'll have an old-fashioned tree-how 'bout that?
I read your "gross out" stories Boo & fun girl and I'm happy to report that I have no such stories about Laci yet,but I anticipate quite a few! Hey fun girl,was it you that was talking about the Miss Julia books a while back? I've just begun reading " Miss Julia Makes Up Her Mind"-seems like it's gonna be a good one.
I love Charlie Brown Christmas,How The Grinch Stole Christmas and The Homecoming (Waltons).Christmas Story is hilarious!
Well,guess I'd better scoot back under my rock.It's been danged COLD on the southern end of the porch lately-30s & 40's-brr!
Y'all have a great evening!
*****SMILES*****
possum under a rock

---
December 04, 2003 - Msg 17412: Mary Wiggins, Romeena is on her way to Fredricksburg. I think she will be back after the weekend. This is our Fredricksburg weekend when Ro and Sugarplum and I get to meet face to face! Should be great fun. Wish you could all be there.

Asa, I dearly love so many Christmas movies and have a large collection of them but I would have to say that A Christmas Carol (the one with George C. Scott) is my very favorite. I never get tired of it and it always touches my heart and makes me want to be a better person. I also love Its a Wonderful Life and A Christmas Story (with Ralphie). I think the funniest one of all is Christmas Vacation with Chevy Chase. The part when the squirrel is chasing everyone is just hilarious!

Well, I need to go finish my packing. You all won't be hearing from me until Sunday or Monday. Have a lovely weekend and enjoy the holiday season!

Boo

---
December 04, 2003 - Msg 17413: MDC you and fun girl have yer fill of pork roast, and the boys too ! ..possum done got the tree stood up and anchored off its ready for light and balls, got a little of turned cider if ya want a sip while we work on the tree, hey Boo, Ro,HM,hazel,pipeman,county nurse,mary wiggins , mrs wiley,LOOK lets all have a party and dance around the tree, someone can hold me up on my hind legs by front paws and watch me GO!signed: Spot the hind leg dancing dog of the southern end of the porch of mayberry!!

---
December 04, 2003 - Msg 17414: MERRY CHRISTMAS!!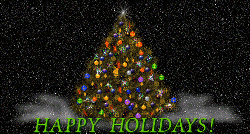 ---
December 04, 2003 - Msg 17415: I hear that you folks wanted tree and Mrs. Wiley provided one....Merry Christmas.
--Floyd

---
December 04, 2003 - Msg 17416: This is our cyber tree.. we are decorating the fur pine at this time..speaking of fur , mine is COLD..could someone try to find an extention cord for the lights?..possum and I are in need of one the only plug is at the back of the cabin! signed: Spot the light stringing in need of an extention cord [COLD} talking , dancing,dog of the porch!

---
December 04, 2003 - Msg 17417: WOW! Thanks for the tree!

Boo

---
December 04, 2003 - Msg 17418: Hi All Will at not going to be a good holiday for me!
I think it was wromg thing to do that is moving to wv I miss all me freiend from cleveland and all I do here is stay in the house.
Me holiday will never be a good one to the day I am back what my mom.
Will start go all new thing is going to be a long run ,
IS take time to git thing from cleveland send here and to start thim out .
TOM



---
December 04, 2003 - Msg 17419: Hi Tom. I'm sorry you're feeling down. I hope things turn around for you soon.
- Hazel

---
December 05, 2003 - Msg 17420: Hey TOM , help us with the tree..will cheer ya up!..I"ll have breakfast ready at 6:00 am sharp for all,tree is about ready, we will have the big lighting tomorrow night .In the morning gona have THICK sliced Jimmy Dean bacon [3 slices each]and in the bacon grease gona put a little flour and sweet milk and salt and pepper[gravy],hard fried eggs,homemade bisquits,fried potatoes,OJ,and coffee..hope all will come to the dog house and eat!..signed: Spot the "got the Christmas tree put up" dog of the porch ..ruff ruff...

---
December 05, 2003 - Msg 17421: Happy belated birthday to **Barn. Sorry I didn't get on here yesterday to post it.
Emmett & Martha

---
December 05, 2003 - Msg 17422: "Good Morning Porch"..I got the coffee brewing and the bacon sizzling,breakfast will be ready at 6:00 sharp yall dont be late!ya here!..been working all night got to go home to the dog house and sleep now.. will be back on the force[porch]this afternoon..take care all,keep the porch in order pipiman and fun girl ! tree looks great!signed: Spot the gona get some sleep talking dancing dog of our porch!

---
December 05, 2003 - Msg 17423: goog morning porch== i always think of art carney addressing the golf ball, hello ball when we say that. floyed== merry christmas and thanks for all you do. your a peach of a fellow. say hi toeveryone on your end of the porch. ro,sugarplum and boo, enjoy the weekend, just don't speed thru mayberry, ok? banjo jerry=== since most of us have to much snow can you cook today's meal and do the music? pipeman

---
December 05, 2003 - Msg 17424: spot== i'm on my 3way to breakfast at your house in the little brown truck. it's filled with new entension cords, and spare decorations bulbs. come on truck we're almost there. tom== it's always emotional to move and make that big of change, i did it a lot of years in the military.you feelyou don't know the people and everytime you speak everyone knows i'm an outsider. wish you luck, remenber folks are good for the most part and soon you'll be having a good time. ALWAYS REMEMBER YOUR PORCH FAMILY IS HERE JUST LIKE WHEN YOU WERE IN OHIO, WE;RE FROM ALL OVER THE MAP BUT JUST ONE IN MAYBERRY, FAMILY. pipeman

---
December 05, 2003 - Msg 17425: ed sawyer== good to hear from you again we've missed you. did you make it to spot's shindig last night? so many famous folks were there from the porch.happy birthday barney, a big happy holiday season to emmitt and martha, emmitt, if you can ease away from martha a few minutes i'll bet the men folks can get you some fine squezzins to really boost the spirit. tee-hee. hey to homemaker, fungirl, wonder where mrs wiley , mayberry girl, charlotte tucker and the rest of the folks are? spot=== maybe we can get asa, mr carter& mr wakefield to guard your decorations. tee-hee.hi to the rest of the porch. pipeman puff, puff spot me and that little brown truck is topping that last rise.

---
December 05, 2003 - Msg 17426: Morning all. I'm on my way to spot. Sounds like a good meal for sure. I think I'd like 4 slices though and my eggs over medium please. Hate to be picky but I have to eat in even numbers. LOL
Tree is very nice Floyd. Thank you.
Tom, you are in my prayers buddy. Hang in there.
Charlotte Tucker, things still looking good for you dear? Sure do hope so.
Possum, quit hibernating and get out here on the porch more.
How are the Pistons doing this year Mary? We have the Lakers this weekend.
Salty Dog, don't stand still in that snow to long, you'll get buried alive.
I tend to like the old Christmas Carol movie the best too. Always clutches me right there. But I love all the ones mentioned above also. Christmas Story, I just bust a gut when the kid is stuck to the flag pole. And Christmas Vacation is a hoot. I bet every family has a cousin Eddy in it. LOL
Well, off to work for me. Sure glad it's Friday. Been a looong week for me.

Asa

---
December 05, 2003 - Msg 17427: That Floyd's a Prince, ain't he? ~ Mrs. Wiley

---
December 05, 2003 - Msg 17428: Yep, a prince, a real prince. Yep it was I who reccommended the Miss Julia books. being born and half baked in the south LOL I have so many relatives who remind me of Julia.

No offense, but who is MDC. I don't mind riding with someone, but I just wanted to warn them I get car sick unless I can ride by the "winder"
LOL Oh I just crack me up!
fun girl

---
December 05, 2003 - Msg 17429: MDC-- f.g.

---
December 05, 2003 - Msg 17430: OOPS, that was supposed to be MDC--Mayberry Dog Catcher?
f.g.

---
December 05, 2003 - Msg 17431: Fun Girl! Boo! THAT'SABOUtENOUGHOFTHOSE GROSSBABY STORIES! Boo, Yours made me literally GAG right here at my computer! Now stop it! Both of you! Ugh. Asa, my very favorite Christmas movie, too, is It's a Wonderful Life! But Prancer is a close second! If you've never seen Prancer, rent it. I just love Sam Elliott in it. He twangs my buds anyway. Yes, things here are going well. God is at work in our household. Thanks for all your prayers everybody! Sorry to hear things aren't going so well, Tom. Can you go back to Cleveland? If not, you must make up your mind that you're going to be happy in WV. God will help you. Try to spread some holiday cheer to those you are living with now. Oh, our tree here is awesome! Who went out and cut that one down? Good job. Maybe it didn't look that good til Asa wrapped his blanket around it. Sorry, Banjo Jerry, you're right, the Sultan's Favorite would've been the girl! (Maybe not on TV these days, but back then it would have!!)
Charlotte Tucker

---
December 05, 2003 - Msg 17432: mrs wiley== a big hug and hello, sure missed you and those parties. any planned for christmas.fun girl that mdc is mt darlins cuz. it does take some thinking when you see c. t., or fg. mw or some of those but i'm use to folks being buzy this 5ime uf year. asa == good to see you at spot,s for breakfast. he's a good cookin dog ain't he? charlotte tucker== glad your doing fine, isn't it a wonderfull life when so many pray for each other. pipeman

---
December 05, 2003 - Msg 17433: asa=== i predict my cubs in world series in 2004/ a little early i quess for the season. basketball. indiana pacer fan, football is the hybernating bears, oh why can't football wait until the bears are done hybernating? pipeman

---
December 05, 2003 - Msg 17434: MDC=Mister Darlin's Cuz

And now, Floyd has inspired this..."Oh Christmas Tree, Oh Christmas Tree, how evergreen your branches..."

Thanks Floyd!

Tom, come and visit the porch more often, it may help chase some of the lonelies away. Pipeman had some good advice up there about settling in to a new place. It can be hard at first, but give it a little time, you may find you like it after all.

Hey Asa, my Pistons are doing quite well, thanks for asking! They have won 4 in a row, and I believe they are 14 and 6 over all. Second in their division. The Red Wings are doing well, too...also second in their division. Ahhhh, but the Lions....! Never mind!

Now, here is something strange, some of you have asked if we are snowed in yet up here in Michigan. I understand the Carolinas have snow, and Tennessee, and Virginia, but I guess we are too far NORTH for snow! At least this go round!

Boo, thanks for the reminder about Romeena. I hope you, and she and Sugarplum have a great time. Give Sugarplum a carrot for me!

"Every time a bell rings, an angel gets it's wings!"

Mary Wiggins



---
December 05, 2003 - Msg 17435: mary wiggins== chicago and cetral part of illinois got 4 inches. we'll save you some soon,i promise. PORCH=== GET A CHANCE GO TO MISS CRUMPS BULLITIN BOARD, EXCELLANT GRAPS YOU AND TEARS YOU UP WITH HAPPY ENDING. A CHRISTMAS CAROL BY WILLIAM WILD BILL TAYLOR. TRUE STORY. LOL PIPEMAN SAVING THE SNOW FOE MARY WIGGINS.

---
December 05, 2003 - Msg 17436: Yep that sure is one pretty tree! Thanks Floyd!
I just hope there isn't a squirrel in it(ay all you Christmas Vacation fans?). Maybe just a possum.

For Christmas shows I think my favorites are still the kids shows like A Charlie Brown Christmas and Rudolph the red-nosed reindeer. Even though that abomidable snowman used to scare the bejeezus out of me when I was a kid.
Probably still does.
-Sterling Holobyte

---
December 05, 2003 - Msg 17437: fun girl, Yep, MDC is me, Mr darlin's Cuz, but we
use the flat bed truck, so yer may have to ride in the back with the boys.
County Nurse, you must be working those late hours again.
How's everyone doin'? I'm heading over to Wally's for a bottle of pop.
Here's one for you:
What was the name of the guy who was also dating Helen, and Andy told her, "Either you're runnin' with him, or you're runnin' with me. Now what's it gonna be?"
Mr Darlin's Cuz

---
December 05, 2003 - Msg 17438: hey to all ..the tree lighting is TONIGHT..think we need a band concert wit the lighting?..get over here pipieman , need the cords>..hey fg,hazel,mdc,hm,and all else ..signed: Spot the tree lighting dog ..back soon getting settled in at work

---
December 05, 2003 - Msg 17439: Asa , 4 pieces and 2 eggs nixt time ...for sure ...and 2 cups of coffee...spot !

---
December 05, 2003 - Msg 17440: hey porchers!..who is cooking supper tonight and what are we having? we aint had tacos in a while ?....signed: Spot the always hungry dog of the greastest cyber porch in the entire world !!

---
December 05, 2003 - Msg 17441: Hey MDC, do ya reckon we would have enough room in the back of the flat bed for Rafe? He sure has a fine set of pipes on him. Maybe we can get him to sing a couple of Christmas carols for us.

CT, we must have very simular tastes, what with our mutual love of David Cassidy and Sam Elliot. Glad to hear that things are going so well for you.

Don't remember what the guys name was who was "running" with Helen, but do you remember how she chewed Andy up and spit him out for putting it so crudely? I always did say he was too good for her. She could be downright testy! Reckon she had the 60's version of PMS, or was she just gonna nasty away?
Later friends.
fun girl

---
December 05, 2003 - Msg 17442: Hey to the porch - I don't think Helen was actually dating the fella that Andy accused her of 'running with', they were working on the new grading system and his name was Frank. Oh, and I think the Sultan's Favorite's name was Flossie, not Francis (that was mentioned somewhere earlier on the porch).

MPO
"Try puttin' a 'poo' on the end of it"

---
December 05, 2003 - Msg 17443: WOW! You guys are good. Yes, Frank was the name
and you're right, he was from the state ed dept I believe, and yup, Helen told him off good.
I think it was a later, color episode.
I'm gonna have to buy that trivia game.
Yeah, let's grab Rafe, Gomer and all head over in the truck fer the tree lightin'.
I'll bring the "lite squeezin's" :)
I'll be AFK for the next coupler days,
so ya have fun this weekend, porchsters.
Mr Darlin's Cuz


---
December 05, 2003 - Msg 17444: OK GANG..yall were very good Frank and flossie! MDC, yall grabe rafe and goober and head on over ,pipiman and i about got the tree wired up..Lighting will be in 2 hrs.but before think we could just have a sip or two and hear a few tunes and dance a little "may I have this dance fun girl"?...a-one and a-two...break it down boys!Asa break us off a buck dance !come on possum,Ro, Boo and TOM , and hazel,"throw another log on the bon-fire county nurse !yee haww..signed:Spot the "having a good time" dog of the porch ..

---
December 05, 2003 - Msg 17445: Hey to the Porch. Milton, it must be good to be King.
You do gooood at those trivia things, me I never do.
It's a Winter Wonderland here in the flatland today...
I walked outside this morning to a picture
no artist could draw.

-- Jelsik
""you probably want to keep this for your scrapbook..."

---
December 05, 2003 - Msg 17446: "Whew".man - o -man may be to old for this party stuff..bu the way hoe old is 44 people years in porch dog years?..whew , pant pant .o-well dos-e-doe swing yer dog and here we GO !..singed: pant pant Spot..

---
December 05, 2003 - Msg 17447: " And a possum in a pear tree " LOL
Somebody mentioned me being in the porch Christmas tree and gave me the crazy notion to do some song lyric altering! "On the 1st day of Christmas my true love gave to me..a possum in a pear tree.On the 2nd day of Christmas my true love gave to me.. Well,y'all can finish the other 11 verses-ha ha
Swing yer dog? Sounds like it's been a wild time on the porch this evening! No possum swinging if you please-I might get dizzy!
Yep,fun girl,I know some Miss Julia type ladies.Really enjoying the book and will have to read the other ones.Thanks for getting the word out-your recommendation was partly what made me get the book.
Well let me get back under my rock before somebody grabs me by the tail and makes me dance the Macarena (which I actually know how to do by the way-ha!) Y'all have a good evening!
*****SMILES*****
possum under a rock

---
December 05, 2003 - Msg 17448: "OK is EVERYONE READY?. . hand me the end of that extention cord pipeman ...and-a-way we lite .."BAM" there we are porchers the grand southern end tree is "LIT"..lets all sing o-silent night ..what cha think ..man-o-man is it ever grand!!hope yall like it!.we got to keep her watered..possum ya wana be in charge of that? well need a snack now and a sip of squeezins...signed: Spot the "glad we got a grand tree" dog of the porch

---
December 05, 2003 - Msg 17449: Howdy all. pipeman, It is never too early or too late to talk baseball. I was rooting for your Cubbies last season. It's only 71 days until pitchers and catchers report for spring training. When those guys report it makes winter a bit more bearable around these parts. Spring can't be too far off.
auh2o


---
December 05, 2003 - Msg 17450: Talking about baseball, I have managed my 12 yr. old since he was in t-ball[7 yrs, two teams per year fall and spring]. He is a great little ball player.Managed a region championship allstar team 2 yrs ago.And as far as major league teams , well ya know where I live , Its the ever so consistant [and not so] Atlanta Braves.They have given us quite a past 12 yrs. But only one World series. But we can never get enough of them. signed:Spot the little leage coach

---
December 05, 2003 - Msg 17451: Spot, that's great about your boy. Good for him. The Braves are the best franchise in baseball. I know the Yankees and their stats and pennants, God bless them. But, the Braves have it all minor leagues, scouts, coaches. They make key trades. They don't buy pennants. They build teams. I'm a looooooong suffering Giants fan (Mays and McCovey)but ya gotta give the Atlanta their due.
auh2o

---
December 05, 2003 - Msg 17452: sterling holobyte== i'm with you on the kids christmas stories love to watch them with grandkids, so far awfully scarce this year. fun girl== since rafe is in the back of the truck,with a good set of pipes, do you think i can talk him out of one for christmas? you right mpoo== it was flossie the sultan's favorite. wonder whatever happened to her? have to ask banjo jerry if she's in the sultans ole folks home. auh20== i'm with you on the cubbies we signed a couple of good ones off season and kept the old ones in tact, feels like ted turners braves a few years back, on to the series we go.that is what makes baseball the greatest sport because no matter who your a fan of your in it for your team for life and when someone else's team is struggling you know how they feel, a big hug now? pipeman

---
December 05, 2003 - Msg 17453: hey tom== hope your ok, we love you, hope to talk to you soon. spot== fine vitals, you sure lite a purty tree, what's that the fire dept, oh there just stopping bye for the great party. hey toJELSIK== GOOD TO HEAR FROM YOU, WHERE IS YOUR PORCH? PIPEMAN WILL LITE UP HIS NEW BRIAR PIPE AND WATCH THE THE FUN WATCH OUT FOR THE MAYBERRY GAZETTE HEADLINES TOMMOROW, PUFF-PUFF THE PIPEMAN SAYS IT DON'T GIT ANY BETTER.





---
December 05, 2003 - Msg 17454: thanks auh2o, we love out braves so much, since 91 they have brought the city closer together. And yes they do play smart baseball not only on the field but in the upper office.I respect both the Giants and Yanks but its just hard to compete with the money. Well hope yall are likeing the tree. Hey asa,Boo,fungirl,mayberry girl, pipeman, HM ,watching the NASCAR awards. Now if ya want to talk to the DOG[spot] about an awsome sport that is it!!..well its about ove now , gona watch the end , back in a short, signed: Nascar Spot

---
December 06, 2003 - Msg 17455: MORNING PORCH lets have deer cube steak and milk gravy this morning!fried potatoes,grits w/cheese,toast, and sweet apple rings, coffee,sweet milk w/ice in it,and OJ,I"ll start cooking it will be ready in about a half hour!signed: Spot "the glad Christmas is coming soon" talking dog of the porch

---
December 06, 2003 - Msg 17456: Just a bowl of cereal for me, Spot. Thanks.
- Hazel

---
December 06, 2003 - Msg 17457: top of the morning porch== in case you can't remember what you did at spots check out the mayberry gazette headlines this morning. tee-hee. tom== pull up a chair, shoot the breeze and enjoy spot's breakfast. yum, yum. spot i stayed nearbye last night cause i smelled deer meat, must have some hunting dog in the ole blood line. hazel== dear you'll waste away with that punny breakfast. wake up mayberry girl and the rest of the porch, are you gonna sleep until 9am? whose cooking tonight? spot is plum tuckered out, and will be starvin when he wakes up. well after that good breakfast i'll break out one of my fancy pipes and kick back waiting for feedback from the paper. pipeman

---
December 06, 2003 - Msg 17458: question of the day== what prize did barney win in the chruch raffle? we have a lot to be thankfull for todat however i feel sad for the children and teenagers of today, for thier world isn't as sweet as ours was.no time for a childhood just to busy, every holiday being slowly eroded is but one example. holiday movies like bad santa are number one. the pipe smoking jolly elf who brings out the best in humanity is slowly being eroded taking away the childhood of oue kids, i have faith when they grow up they will reverse this trend. sorry got on my soao box. pipeman

---
December 06, 2003 - Msg 17459: I'll be thinkng on the new lyrics for the 12 days of Christmas. Maybe I can come up with a little something. Let's all give it a shot, shall we?
Yep spot, I'd be honored to share a dance with ya. Do ya reckon the boys could play "Dance Til Your Stockins Are Hot and Raveling?" I don't think that'un makes me cry. LOL

Does anyone now what nutrition money is? Aunt Bee hollered it out to Opie one day. Opie, you forgot your nutrition money. Is it like lunch money or what?

fun girl

---
December 06, 2003 - Msg 17460: Hey to the porch - Didn't Barney win four free haircuts in the raffle? He got his picture in the paper for winning.
Hey to Jelsik!

MPO
Still ugly, single, and pittin' prunes

---
December 06, 2003 - Msg 17461: I'm gonna take a guess that nutrition money is the money kids took to school to buy a carton of milk. Most of em took a sack lunch to school, and they probably needed to buy a milk to go along with it.
- Hazel

Opie: Wanna know something, Paw? A sandwich sure tastes better with milk.

---
December 06, 2003 - Msg 17462: Hey, porch! I'm here in Fredericksburg and haven't heard from Boo. I'm thinking she may have forgotten to bring my phone number along, and therefore can't contact me. Does anyone have any idea how I could reach her, such as a cell phone number? Probably not, but just thought I'd try. If anyone does, please post it here and I'll check back later. Thanks, friends. Sugarplum says hey! --Romeena

---
December 06, 2003 - Msg 17463: Hey guys, Spot I'll agree with ya on the Nascar thing. aint nothing like it. No offence to the football people here. But in nascar you see wrecks, things on fire, things blow up. That just dont happen in football. And I was VERY proud that Dale Jr was voted the favorite driver this year!! Hope everyone is warm and safe today. Our snow is almost gone yippee!! See ya'll later on- Salty Dog

---
December 06, 2003 - Msg 17464: TOM, hope you left a forwarding address in Ohio because I sent you a Christmas gift. Sorry you are feeling down. But you have your friends here.
Send me your new address when you have a chance.
Emma, Floyd (lovely Christmas tree) and MPO, nice to see old faces. I don't check in often. Don't know nobody much here.
Where is Romeena ?
Hey to all of you and Happy Holidays,
The OLD Miss Ellie from WAY back when the porch just had got a good start.

---
December 06, 2003 - Msg 17465: Five Little Evergreens Five little evergreens
outside in a row.

The first one said,
"Let's look at the snow."

The second one said,
"Oh-oh, it's getting cold." The third one said,
"Christmas is coming so I'm told."

The fourth one said,
"I hope someone decorates me."

The fifth one said,
"We'll just have to wait and see."


Hello from: ELLEN BROWN

---
December 06, 2003 - Msg 17466: test

---
December 06, 2003 - Msg 17467: Hey - never mind, friends! Boo and I have hooked up, she's here in my daughter's house right now, about to enjoy a glass of my daughter's wonderful tea. I've met her very nice husband, and Baby Girl and Shawn - and we're going to have a lovely day, I can already tell. Sugarplum says hey! --Romeena

---
December 06, 2003 - Msg 17468: what activities was barney involved with in high school? mpo==your really good at this trivia.you'll have to go to mayberry like jeff pruitt and pick out a wife. think that would work? fun girl== during the 50's nutrition money covered lunch and a carton of milk in afternoon, see they were health conscious even back then. romeena== if anyone has boo's number you might want to post here for you to go to bullitin board, there they can leave a number only. security you know asa is big on that. salty dog== i agree with dale jr winning, he is quite and isn't full of himself.the old miss ellie== please come back and you'll find us newer ones caring, watching out for each other and having tons of fun. ellen brown== good one. where is your porch? i'm on the middle porch, lincoln, illinois. whose cooking supper? lol. time to light one of my briar pipes and spend a lazy afternoon. pipeman

---
December 06, 2003 - Msg 17469: Spanish Club and was it tin foil drive?
Andy: I didn't know you was in the Spanish Club.
Barney: Si
And wasn't Andy in the philomathian society, where they cut out current event articles and pasted them in a book.

Here goes the Mayberry 12 Days of Christmas

On the 12th Day of Christmas, Mayberry gave to me

12 prospective brides for Andy
11 crocked church ladies
10 little blue pills
9 jail cell keys
8 spark plugs for Tucker
7 eggs with faces
6 musical Darlings
5 jars of pickles
4 calls to Juanita
3 orphaned baby birds
2 chairs no waiting
And a sheriff and his friends and familyyyyyy.

We gone. Bye Bye!
fun girl

---
December 06, 2003 - Msg 17470: Or as Paul Harvey says,
Good Day.
f.g.

---
December 06, 2003 - Msg 17471: What other t.v. dad of the 80 also collected tin foil early in his life. A free oil change from Wally's for whoever gets this right.
f.g.

---
December 06, 2003 - Msg 17472: Hey to the porch - Wasn't Barney also a hall monitor? and had something to do with volleyball court maintenance? I don't think I need to go to Mayberry and pick out a wife though. I picked one out 29-1/2 years ago and she ain't run me off yet.

MPO
They's paired up like a racey team of buggy mules

---
December 06, 2003 - Msg 17473: sugarplum, romeena and boo= our prayers are answered your all together, safe and having a good time. ellen brown==loved the 5 little evergreens story. fun girl== you were right on the quizz and mpo finished it. he is so good i nominate him as mayberry historian 2004. do i have a second? i loved your 12 days of christmas, brings tears to my eyes and can barely keep the briar lite. has anyone woke spot up tonight? mary wiggins== star trek just rang a whole string of bells over me and i still don't have my wings, what gives? SINCE THE HOLLIDAYS ARE FOR MEMORIES LET'S TRY THIS ONE. HOW MANY REMEMBER GOING TO A DRUG STORE, HARDWARE STORE ANDETC, WHEN TV FIRST CAME IN AND IN THE CORNER WAS A TUBE TESTING MACHINE? HOW MANY REMEMBER THOSE EARLY TV'S COST NEAR A THOUSAND DOLLARS AND PEOPLE AVERAGING 4,000 DOLLARS A YEAR IN WAGES. OR THE FIRST TV SET YOU SAW? I'LL BET THERE ARE STORIES OUT THERE DON'T YOU? PIPEMAN.

---
December 06, 2003 - Msg 17474: Just passing thru. Thought I would say Hey. So Hey!
Sp00ky Benson

---
December 06, 2003 - Msg 17475: Well pipeman, this ain't a holiday memory but your askinf about tube tester's reminded me of this. One Saturday when I was just a little feller I remember my dad spending all day, taking every tube out of the t.v. and testing them. He had the t.v. guts spread out all over the living room floor and messed around with it all day long. He finally got it back together just in time for his favorite show, Lawrence Welk. He turned it on and fiddled with all the knobs and got a pretty good picture. Turned around and sat down and as soon as his behind hit the chair the picture started to roll. So he got up and adjusted some more, got it looking good again and sat down, only to have the picture start rolling again. It was just as if thete was a switch in the chair cause as soon as his rear end plopped down, the picture would roll again. Well this went on about 4 times, the last ime it happened he got up, walked over to the t.v. and put his foot right through the side of the thing. Sparks flew, smoke came out, me, my sister and my Mom just sat there horrified, and he turned and looked at us with this evil grin on his face and stated, "well I guess I fixed the da** thing, didn't I? Years later when I saw Christmas vacation and Clark goes ballistic when is his Christmas lights don't work and begins kicking and cussing the images I laugh as I remeber my Dad.
How's that for a memory? LOL

Asa

---