---
October 28, 2013 - Msg 95198: Good story, Possum. I wish he had said to you, "I think he's a NUT!" --Romeena

---
October 28, 2013 - Msg 95199: Just noticed the porch looked a little dusty, so I swept as I was passin' by.

Well, I got that bouquet of roses cut - they sure are pretty! One big gold one, one deep red, one orange, and two of my sweet little Angel Face rose - a mauve-y pink, and incredibly fragrant. Naturally, I managed to stand in an ant bed while cutting the gold one, and about twenty of the miserable little things got me. They weren't fire ants, but they still hurt, and now they're itching. There's another question to put on my list, to ask the Lord some day. Why do ants have to sting? Couldn't they have done their little bit for the ecosystem without being so hateful - and painful?--Romeena

---
October 28, 2013 - Msg 95200: Now if they was mosquitoes we would know what to do with them....Right Romeena? Mr.Sawyer never did say how he stood on the bat issue. Come on Mr. S we need to know where you stand on these important issues in post #95181....
I bet Floyd and his gang are having a great time on their Mayberry Cruise I hear they have Huckleberry Smash flowing by the gallons on that ship...Hey wanna buy a ship in a bottle?
Oh yea, TOM as I said same story different year, they got everyone excited when they won 3 in a row just to follow by losing 3 in a row..Same ol' same ol'.....

G-F....

---
October 28, 2013 - Msg 95201: I see butterflys. You see bats. Mr. Sawyer.

---
October 28, 2013 - Msg 95202: I love butterflies, and plant things that attract them just so I can see them. However, they don't eat mosquitoes, and bats do! --Romeena

---
October 28, 2013 - Msg 95203: Finally dropping in at bedtime. Been a busy day! Catching up the laundry (Bruce fixed my dryer on Sunday). Monday is always my busiest day.

Today is Bruce's birthday so we all went to town to one of our favorite BBQ places. Now he is sitting in his recliner enjoying watching the Cardinals play. Guess its a good BD for him. I can't believe I am married to a 56 yr old man!!! ;)

Boo

---
October 28, 2013 - Msg 95204: Funny come back Mr.S but Romeena is right...She's our "Mother Earth of the Porch" just don't get her started on squirrels ;)

Hey there Boo, don't crack on us 56yr olds. I've gotta stand up for him he's one of my kind...We are not old, just "maturely wise"!
What has the "barnyard gang" been up to lately, surely Bernie has been up to something? I think you need to get a camel so you can remember what day it is!.....
Going to a class tomorrow on E-baying I buy but never sold anything, so I'll find out tomorrow how to?

Night-all....G-F

---
October 29, 2013 - Msg 95205: E-bay? Grrrr. I ordered some surprise lily bulbs on E-bay about two weeks ago. The purchase has been charged to my debit card, but I haven't received them. So, today I tried to go to E-bay to try to track them down. Entered my user ID. Entered my password, as I remembered it. Password refused. Clicked "I forgot" link. Followed directions to reset password. New password doesn't work. Rinse and repeat. About six times. It will NOT accept what I'm 99% sure was my password, and it will not allow me to reset - just seems to be stuck in a loop. As I said - Grrrr. Every time I've gotten involved with E-bay, I've ended up with some kind of problem. The first time, after a number of successful purchases and enjoying the pursuit and the purchase, I suddenly received notice that my credit card, the one I had tied to E-bay/PayPal, had been maxed out, and I didn't do it. About five thousand in purchases had been made, all over the world, literally. Even a hotel room in Seoul, So. Korea, had been charged to it. Visa was very cooperative, sent me a printout of all charges, and allowed me to mark what I knew to be mine or not mine. They closed the account, opened a new one and put the charges I had verified as mine on it, and absolved me of the rest. Can't beat that. It cost me nothing, but it sure did make me wary of E-bay. I can't prove where the number was hacked, but that was about the only place I was using that card, so.....

So now, when I decide to give them another chance, my account is locked up and I can't even get in to see what's going on. To make matters worse, that debit card is my one and only piece of plastic right now. I can't even close it out for damage control. So far, I don't know that there is any damage, but I'm watching it. I'm pretty much done with E-bay, I think.

Hey, Boo, if my Dale had lived, he would be 76! Now that's pretty scary. I'm 74, and it doesn't seem all that old to me, but 76? Wow.

Oh - is your Facebook picture Thelma Lou with a hat on? Cute picture, whoever it is. --Romeena

---
October 29, 2013 - Msg 95206:
HI All, Possum, neat story about Barney. Was he there to break up
that "educational" belly dance? ha
PH- you sure do know how to do interesting things
with computers. I'm guessing, then, that you did NOT work on the OBCare website. LOL
Her is a video tribute that was posted on Rocky's FB page. It is many family photos set to music. Very well done. Includes some of him in a roman collar even.
http://thetributecenter.com/tributeplayer/default.aspx?webvideoID=11186#/WebPlayerPage
and I sign off with all the respect that I can to our dear Rev: "Remember Jesus loves you!" :)
Prayers,
MDC

---
October 29, 2013 - Msg 95207: Yes Ro, that's thelma lou. If you go to my facebook page and go to my photos you can see more of her and the other animals. I'll have St. Susan send you a friend request because she has lots of photos of Thelma lou...more than me, I think. :)

Ro, I don't do Ebay anymore. If I order anything these days its off Amazon. I have never had a bad experience with Amazon.

Thanks for posting the video of REV, MDC. :)

G-F, Bernie was acting up pretty badly for a couple of weeks, but has settled back down. About a month ago, I was letting the chickens out of the coop and one hen got behind the door and couldn't seem to find her way around it, so I was trying to grab her to get her out. Well, Bernie did NOT like that. He saw me as a threat to his hens for a couple of weeks and would skirt around me with his wing hanging down, even tried to peck my foot once so I hit him in the head with the bread bag I was holding. Not hard, mind you...just a warning. He got over it and isn't mad at me anymore, though. He is still my baby. :)

Boo

---
October 29, 2013 - Msg 95208: Morning all.
Thanks for posting that MDC. Still so very hard to think the Rev. is gone. But we know he is in a better place, and I think we can feel his spirit among us.

Ro, you finally got on Facebook? I guess I'm the only holdout. LOL

Good to see you Boo. I'm glad Bruce had him a fine birthday.

GF, sounds like you got plenty of things to do since retirement. Good on ya buddy. Idle hands are the devils work tools.

Mr. Sawyer, it sounds like you are in the anti bat camp. I welcome you. I enjoy Ro and GF alot, but they do have a dark side, and it's full of bats I tell ya!

Well better go see what trouble I can muster up today. Got some copper pipe soldering to do. ALL IN ALL, IT'S A FUN DAY.

Asa

---
October 29, 2013 - Msg 95209: Oh that Bernie..."I say Son, don't mess with the hand that feeds ya Son"! Romeena I have reservations about e-bay too, guess I'll go and listen to the class and see what I can make of it.
My Son has a account and is versed on e-baying so if I want to buy something I deposit $ in his account and he handles the computer end of it. I have had very few problems with it. But the issues you describe are the things I worry about happening, I don't want cyber stalkers messing with my $.

G-F.........

---
October 29, 2013 - Msg 95210: Hey All.
Now look here Boo ere a trick for hiting Bernie you no he have right to!
Asa do not go looking for trouble or you will go back to jail.

SGT TOM


---
October 29, 2013 - Msg 95211: Morning porch, been busy this morning so taking a break to rock. hope everyone is doing okay.

Romeena, I hope you work through that e-bay mess. i have never ordered anything from them and after reading your story I won't. We do order things from amazon from time to time and Patrick and Beth order things for school from different places. We have never had a problem with that but always makes we wary of doing so. seems like everything is going to doing business on line. Ro, you can find me on facebook if you want to,it is Jo Ann Austin Cox. I mostly just look at posts, not really a poster. it has been good for me to connect with cousins and friends. we can at least private message if we are on facebook at the same time if needed.

Boo: I love you pics on faceboook. you have a beautiful home and the pics of your family are great. It makes me smile to see your donkey on your porch!

good to see you Tom. been worried about you.

well, gotta get up outta my rocker and get busy.
lets meet at Burger King for lunch!

prayers and blessings to all
Big Maude

---
October 29, 2013 - Msg 95212:
Mr. Sawyer, regarding Mr. Schwump (or Schwamp) that you mentioned in Msg 95188, http://mayberry.wikia.com/wiki/Mr._Schwamp has some interesting information about him.
Also, regarding your in Msg 95191 request about the colors used in Howard Sprague's office, I recommend that you go to http://www.google.com , then click on the IMAGES link, then type in HOWARD SPRAGUE in the search box, then click on the MAGNIFYING GLASS blue button. That will bring up all kinds of photos, including those of Howard Sprague in his Mayberry office.

Romeena, thank you for those kind words in you Msg 95195. But if you keep that up, my head will start to swell up and then my hats won't fit anymore.

MDC, thanks for posting that link to view the Rocky Morris Memorial video. I just finished watching it. Too bad there was none of his guitar playing or singing. And when they showed the guitar closeups, it was strange to hear only a piano playing.

Asa, you are not the only Facebook holdout here at The Front Porch. I refuse to open an account because of privacy issues that I have no control over.

from Poor Horatio

---
October 29, 2013 - Msg 95213: Good morning, porch. PH, the privacy issues you mention were a big reason why I stayed out of Facebook. Then I happened to be with Eloise one day while she was in Facebook, and she showed me a lot of pictures of myself, posted by my kids at various times, so whether I liked it or not, I was "on" Facebook! I figured I might as well join so I could at least monitor the thing. They claim all these "privacy" settings, but I'm not sure how well they work. I've heard a lot of scary stories. I think I'll probably just "hide and watch" at least to the extent that I can.

I loved that video of our REV and his family. I've decided I'll just refuse to accept that he's gone, because really, he's not. He still lives, just on a different level. It's the same decision I had to come to regarding my husband, and if it applies to one, it applies to all. He's still here, in the same realm where God and the angels exist, where Rocky is, and where we will someday be as well, if we have accepted God's offer of salvation. That's the Good News, the Gospel, and it is what Rocky believed and sang about so beautifully. I believe it too. "For God so loved the world, that He gave His only begotten Son, that whosoever believeth in Him shall not perish, but have everlasting life." John 3:16. It's just that simple. So simple, in fact, that many miss it because they keep looking for something more complicated, and it just isn't there. "For by GRACE are ye saved, through faith, and that not of yourselves, it is the GIFT of God, not of works, lest any man should boast." Ephesians 2:8-9. So simple. Rocky believed that, it was the common thread in all his music. We who believe will see him again.

Well, I need to go feed my small friend. She hates it when I stop off at this computer. Blessings, friends. --Romeena

---
October 29, 2013 - Msg 95214:
Romeena, there is another passage in the Bible's Book of John that offers me hope. Shortly after Jesus raised Lazarus from the dead, He turned to the sister of Lazarus and "Jesus said unto her, I am the resurrection, and the life: he that believeth in me, though he were dead, yet shall he live. And whosoever liveth and believeth in me shall never die. John 11-25:26 KJV

from Poor Horatio

---
October 29, 2013 - Msg 95215: Amen to that, brother. Thank you. --Romeena

---
October 29, 2013 - Msg 95216: Romeena,PH,Asa, Maybe we can start up a club for us folks not wanting to get on Facebook. We could call ourselves..."Mayberry Faces Made for Radio".

Boo you better watch...you don't want to get Sgt. TOM mad at you.. Just ask Asa & I we don't want to go back to the rock ever again!

I agree Romeena, they did a good job with the memorial video for REV it was a good tribute, thanks MDC for posting it for us.

G-F.....

---
October 29, 2013 - Msg 95217: Hi Ya'll, you know what I think I'll do? Go down to the fillin station, get a bottle of pop, go by Lucy's house and watch some t.v. Mr Sawyer.

---
October 29, 2013 - Msg 95218: Yep, that's what I think I'll do. Go down to the fillin station. get a bottle of pop, go by Lucy's house and watch some t.v. Mr Sawyer.

---
October 29, 2013 - Msg 95219: For the love of Mike, Mr. Sawyer, just do it! Go get a bottle of pop, go to Lucy's house, watch some t.v. Just do it!

Update on my E-bay complaint - I received the lily bulbs today. Still can't get on E-bay again, however. Refuses my password, and just dumps me in a continuous loop when I try to reset it. Oh well.

G-F, I'm afraid I've already gotten on Facebook. I need help with it, though. Got to get one of my kids to sit down with me and teach me a little bit about it. My email box is now just flooded with notices about postings on Facebook, usually five or six referring to the same event. I'm not a particularly busy person these days, but I still don't have that much spare time! Got to figure out how to filter it, or somehow slow the flow down a bit. --Romeena

---
October 29, 2013 - Msg 95220:
Romeena, why not just visit http://www.youtube.com and type in "Facebook Tutorial" in the search box? Learn on your own time and at your own pace.

from Poor Horatio

---
October 29, 2013 - Msg 95221: Right now on TVLand Andy is tellin Aunt Bee to "Call the man". Mr Sawyer.

---
October 29, 2013 - Msg 95222: I could be wrong here but I thought I saw Blue the dog by the wagon of beef Aunt Bee and Opie are pulling to Mr. Foleys. Also in this episode Mr Foley only has a butcher shop. In other episodes he has a whole grocery store. Mr Sawyer,

---
October 29, 2013 - Msg 95223: Asa,PH,..Romeena on Facebook?....We tried to tell her didn't we boys.... Now she'll be Glenda Ford'n it all over town....Just don't buy one of those wig things we love ya just the way you are!

G-F & "The boys"...

---
October 29, 2013 - Msg 95224: HaHa. That's funny. Just like Barney was doin in the bank. Glen Ford in G-Men.

---
October 30, 2013 - Msg 95225:
P-H--I agree that there should have been some of Rev's guitar playing on the memorial video, but I'm sure they were after a more somber tone.
I was watching the Rifleman today on ME-TV and there was our tags nurse Mary (Julie Adams) playing a bad girl. Funny to see her in that role.
Maude--can I friend request you on FB too?
Well folks, have a good rest of the evening.
God bless,
MDC

---
October 30, 2013 - Msg 95226: MDC : of course you can send me a fb friend request!
Big Maude

---
October 30, 2013 - Msg 95227: Big Maude Tyler. Aka Ralph Henderson, good morning. Mr Sawyer.

---
October 30, 2013 - Msg 95228: MDC, Even tho Asa, PH & I aren't on Facebook will you still be our friends? :) Since we can't be,..your neighbor..
(My best Mr. Rodgers impression.)
Raking leaves...cutting grass all in all it's gonna be a FUN day....Asa hope ya got all your copper pipe run, I have that on my "To Do" list too. I have some pipes I need to move so I can put a ceiling in the basement laundry/bathroom. Remember in soldering pipe cleanliness is next to godliness...I have found that little extra time in cleaning before you solder is far better than fighting to resolder it when it doesn't flow right. Not bragging but stating fact..(sorta like Barneys bullet Maintenance ya don't want it turning green now do ya?)....

Just curious...Wonder what kind of "heater" Glen Ford carried in "G-Men"? Bet Romeena (Glenda) has that same one too...Pow,Pow,Pow!

I think REV would be say'in....That G-F, he's a real study, Lord, watch over that boy!...

G-F....over & out!

---
October 30, 2013 - Msg 95229: Pow, Pow, Pow. That's what Barney did to Ben Sewell's still. Mr. Sawyer.

---
October 30, 2013 - Msg 95230: Ro,I sent you a friend request a few days ago on Facebook,so "friend" me when you get the chance!

*******************
possum under a rock

P.S. Yep,that sure sounds like something Rev would say, G-F!

---
October 30, 2013 - Msg 95231: Oh, and watch out for those Giraffes! They are all over Facebook these days!

possum again

---
October 30, 2013 - Msg 95232: It don't matter about Giraffes. They are high above the ground. Now dogs, that's a different story. They are low to the ground see.

---
October 30, 2013 - Msg 95233: Not to mention,they're selfish! (Not dogs,but giraffes!)

possum again

---
October 30, 2013 - Msg 95234: HaHaHa possum. I love the chatter on the front porch. Mr Sawyer.

---
October 30, 2013 - Msg 95235:
Mr. Sawyer, I just realized that I didn't properly introduce myself when you first appeared here.
I am not sure exactly what year I first started posting here, but when I search the archives for my name, the earliest I could find was in 1997. However, it has not been continuous since I have been known to disappear for weeks, months and even years at a time.
Although I was born, raised, and worked in the USA, after marrying a Canadian, I moved to Canada.
My posting name is unusual because it is not a character from the Andy Griffith Show. Rather than try to explain it, just watch the following video
http://www.youtube.com/watch?v=Z6L70BwsjUk

from Poor Horatio

---
October 30, 2013 - Msg 95236: Hi P H. I see. A poor ratio.. Oh Oh. Fred Plummer is sweeping again. Mr Sawyer.

---
October 30, 2013 - Msg 95237: PH, I think Poor Horatio was close enough to being a character. Opie sort of gave him an identity. I mean, after all, he felt sorry for him and all that. That just almost made him real. Oh, and good suggestion about the tutorial on YouTube for Facebook. I'll do it! I know one thing, this Facebook thing is already getting out of control. Every morning, I have at least twenty emails, all related to Facebook. If anyone posts even a one-word comment on any thread where I happen to appear also, there will be an email telling me about it. I'm hoping there's a way to turn that off. Also, I'm besieged with requests to "friend" people I've never even heard of. I think this thing will run away with you if you give it its head!

possum, you are definitely not one of the "never heard of" folks. Of course I'll respond to your request, if I haven't already. There have been so many, and actually, I thought I had seen and responded to yours. I'll check.

Well, we're about to get a big rainstorm here, from the looks of things. Sky appears to be made of molten lead, no squirrels in sight, huge flock of starlings just flew over, probably a thousand birds, apparently trying to get away from something. There's a storm line to the northwest of my area, and the birds were flying fast and steady to the southeast. You can learn a lot by observing the critters.

Well, I'm off to watch "Adam-12." I like that show! Blessings, friends. --Romeena

---
October 30, 2013 - Msg 95238: Hi Romeena: Are you sure that was a flock of starlings that flew over or were you hearing the darlings in the backround? Mr. Sawyer

---
October 30, 2013 - Msg 95239: Hi Romeena: Are you sure that was a flock of starlings that flew over or were you hearing the darlings in the backround? Mr. Sawyer

---
October 30, 2013 - Msg 95240: Nope, I saw them. Saw them with my own eyes! They came in from the northwest, and over, just a tad south of my house, and then whoosh! They were gone! There oughta be a law against those birds, flying in a big bunch like that, scaring other birds half to death! --Romeena

---
October 30, 2013 - Msg 95241: Gomer is trying to chase Regis back into the woods. There are some nice video shots here including the second floors of the barbershop and the courthouse. Mr. Sawyer.

---
October 31, 2013 - Msg 95242:
G-F--Sure, y'all are still friends. Won't you be my neighbor? Also, the few times I have done pipe soldering, it seems like I can never get that
perfect swish of the solder going all the way around the fitting. No experience I guess.
Did you all hear of Marcia Wallace's passing a few days ago? She played Carol on the Bob Newhart Show. May she rest in peace. :)
ROMEENA-when you open FB, click on the little cog or gear-looking icon at the top right, then click on "account settings", then on the far LEFT, click on the various items like "security", "privacy", etc and you can do edits. Hope that helps. One Adam Twelve, see the complainant...
MAUDE- If you see a friend request from a Steve R---S, that's me!
Well, have a good evening,
prayers,
MDC

---
October 31, 2013 - Msg 95243: Alright, who's willing to go in the Remshaw house with me to retrieve Opie's baseball? No way I'm going in alone. Any volunteers? G-F? Sgt. Tom? Mr. Sawyer? MDC? Poor Horatio? Now is the time for all good men to come to the aide of their neighbor!

Asa

Gomer? Gomer? (gulp) GOME???

---
October 31, 2013 - Msg 95244: Hello Asa, I heard about that house. I am not going in there. They say it's haunted. Mr. Sawyer.

---
October 31, 2013 - Msg 95245: I'll go with ya, Asa,but I'm bringing my rock to hide under,just in case!

Happy Halloween, y'all!

*******************
possum under a rock

P.S. Thanks for "friending" me,Ro! In addition to what MDC told you about FB, I think there may be an opt out link on those notification you're receiving from FB. Look down at the bottom of one of those messages. I want to say that's what I did to get rid of all that inbox clutter from FB.


---
October 31, 2013 - Msg 95246: Make that.. notification (S). Don't want MDC (the Grammar Cop) to get me-LOL

possum again

---
October 31, 2013 - Msg 95247: An ax??...Shazaam!!!

Boo(!)

---
October 31, 2013 - Msg 95248: Morning Dears...I guess retirement will sink in after today, the gang from work are throwing me a "Retirement" party tonight. It feels like I have been on vacation so far, they reality will now set in. Look forward to seeing some of my bud's who have already been on the "outside".
I will miss most of them (but some of the stinkers I won't!)...

G-F......

---
October 31, 2013 - Msg 95249: Good morning, porch! Wow, is it ever beautiful here today. It's 72°, breezy, beautiful blue sky, and roses I didn't even know were setting buds have decided to bloom! My precious little Angel Face is just loaded. That's the most delightful little rose bush. Never gets over three feet tall, and about the same width, and blooms so often that it's hard to tell when one bloom flush ends and the next one begins. It resists black spot and mildew, has lovely dark green foliage, and the blooms are the sweetest-smelling things you can imagine. I started with just one bush, liked it so much I bought more, and now have about eight thriving around the place, some in front but mostly in back where I can see them.

We have had rain, and cool days and nights, and everything in the yard is really perking up. There will be one big last hurrah, and then a cold front will sweep in and everything will keel over and fall asleep until Spring. The surprise lilies that were standing tall and looking like red sparklers last week have now withered and the stalks will soon collapse. The strange little clump of foliage has come up around them, and is now at least three inches high. It looks a lot like monkey grass (liriope). It will make a little mound about the size of a big saucepan, which will stay green all winter and will fade with the first warm days of spring. Since those bulbs I ordered on Ebay finally arrived, I guess I'd better get them in the ground.

What is everyone doing for Halloween? Personally, I plan to leave my porch light off and ignore the doorbell. There are no small children living on my street anymore, and the last few years all that has greeted me at the door are big teenagers I've never seen before, who haven't even bothered with a costume, they just stand there holding out a sack. Where's the fun in that? So, since my house presents a dark facade from the front even when I'm home, I just let the goblins pass on by. There are low voltage lights along the walkway, but the porch is dark, and no light shows through the front bedroom windows. I think it's safer for me to just let it look like no one's home.

I guess I'm turning into an old fuddy-duddy. Dale and I used to enjoy Halloween, with all the cute little kids in their costumes, and I'd bake cookies or make popcorn balls, and if we recognized neighbors with their kids, we'd invite them in for coffee. Things are just different now, at least for me. I hope somewhere families are still doing what we found to be so much fun.

Our church has "Trunk or Treat" on the parking lot tonight. Volunteers park their cars on the lot, decorated if they wish, and open their trunks, which will contain boxes of candy and stuff. The church offers it as an alternative to trick or treating from strangers, which can be risky. There will be a "cookie walk" - same thing as a cake walk, only with cookies - and some simple games. Probably a wading pool where the little kids can "fish" for little prizes, such as that. It's fun, but I don't go. I think I need to stay here in case somebody gets upset when I don't answer the door. The times, they are a-changin'!

About FB, I'm going to enlist Brittney's help next time she's here. She's a whiz with the thing, and can zip through and set mine up just fine, I'm sure. No telling what I'd do to it!

Well, off I go. I need to go cut some more roses. Blessings, friends! --Romeena

---
October 31, 2013 - Msg 95250: Romeena, Cutting some roses so you can recite some rose poetry for Brisco? At least hang up your Bats on your porch...But, other may see them as Butterflies tho.... ;)

G-F....

---
October 31, 2013 - Msg 95251: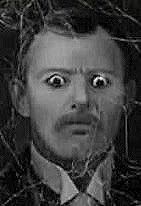 Mayberry's old man Rimshaw wishes everyone a

HAPPY
HALLOWEEN



from Poor Horatio


---
October 31, 2013 - Msg 95252: Bite your tongue, G-F. Rose poetry for Briscoe, indeed! I wouldn't have that moldy old buzzard on a bet, I don't care if he does have a wood floor! As for the bats, I wish I did have a few roosting around here, on the porch or wherever they'd be happy. The mosquitoes are wicked right now. --Romeena

---
October 31, 2013 - Msg 95253: Ooh! Look at Old Man Rimshaw on our Porch!! Frightful!

possum once more

---
October 31, 2013 - Msg 95254: LoL Romeena, But ya could poke at his bugg'in biceps!.... Funny thing about the Old Man Rimshaw picture, I had a resident that looked just like him! Creepy bug eyed dude....

G-F...

---
October 31, 2013 - Msg 95255: Hi ya'll: The front porch is such a friendly place. But I have to know. How does the front porch family feel about Helen Crump? I really want to make Mayberry my home town but she just seems to really treat Andy unfavorable at times. I am not sure she would make a good neighbor. Mr. Sawyer.

---
October 31, 2013 - Msg 95256: Good question, Mr. Sawyer. I think you're right about on the mark with the rest of the porch, with regard to Helen. Personally, I find her tendency to pout when she doesn't get her way, and the way she manipulates Andy, to be among her least attractive attributes. Since Andy seems to think she's great, I guess we have all just accepted her for his sake. I quit worrying about Andy on the occasion when he informed her that "this is ONE argument you're not going to win!" I knew then that he would let her push him just so far, and anything he tolerates is because he chooses to. Actually, she does have a good heart, and I think she's a good neighbor toward anyone that isn't too close to her. I can't speak for the whole porch, but that's my take on it. --Romeena

---
October 31, 2013 - Msg 95257: Happy Halloween Porch. We have had lots of truck or treaters on my end of the porch this evening. The little kids are so sweet and generally say thank you. We have had some older ones that are taller or tall as me!. Of cours, I am only about 5 feet tall so that doesn't take much. They have generally been nice and grateful as well.

Anyway, stay away from the Remshaw Place tonight. I hear it's pretty scary .

Prayers and blessings!
Big Maude

---
October 31, 2013 - Msg 95258: Mr. Sawyer, If you want my opinion on Helen C-R-U-M-P, I think her problems started with the BLOB, maybe she stepped in some of the goop when she was running with Steve McQueen...
Just my opinion....

G-F....

---
October 31, 2013 - Msg 95259: Boo....did I get yall....ha ha....SPOT


---
November 01, 2013 - Msg 95260: I refer to her as "Helen Grump." Does that answer your question, Mr. Sawyer?! :)

I am not really into Halloween that much anymore, either. I used to love dressing up, as a kid and as a 20-something who liked going to the clubs. Don't know if it is good sense, age, or what, but I just find that I'm distancing myself from that kind of stuff. I like to think most of that has to do with the Holy Spirit grabbing a greater hold on my heart. Though I do obviously have a way to go, because we did take the kids out for trick-or-treating tonight. You know, letting them dress up and of course, get candy that I don't have to buy, that's always a plus. ;) Right now it's like I can take it or leave it as far as trick-or-treating goes. Sometimes Kai doesn't even want to go, as she didn't last year, and that was more than fine by me. As for this year, we kind of decided at the last minute to do it, so it wasn't something we put a lot of thought into. Just went to Goodwill, found some cheap costumes, and away we went. Noah did pretty well with his first time trick-or-treating. Didn't whine too much, even though he could have, as it was a little chilly with the wind. And I think he had fun.

Have a nice night, everyone.

-Sterling Holobyte

---
November 01, 2013 - Msg 95261: Good morning, front porch. Helen doesn't seem to be to stuffy though in the colored ones. Mr Foster is in town. That same car broke down again. Twice in Mayberry. Mr Sawyer

---
November 01, 2013 - Msg 95262: They did not make Fords that good back then Mr. Sawyer....

---
November 01, 2013 - Msg 95263:
Hello saints! Happy November; there is a fresh crispness in the air!
MDC

---
November 01, 2013 - Msg 95264: Was Don Yelton a good citizen of Mayberry? MrSawyer

---
November 01, 2013 - Msg 95265: From what I can gather, he wasn't a good citizen of anywhere. When someone makes comments as patently stupid, as egregiously offensive as what he said, no matter what his stripe, I can only wonder if they've slipped their trolley. My mother often said that "tact is the unsaid portion of what you think." She was so right. Politicians are not immune from having personal opinions, just like the rest of us, but for cryin' out loud, you don't say something like that publicly, no matter what you may think privately, unless you're ready to retire!

Yes, MDC, and I love this time of year! Check out my little old blog here: http://romeena-viewsfrommywindow.blogspot.com/2010/12/happy-fall-yall.html. This pretty much sums up my feelings toward this season. We don't get much in the way of seasonal changes in this part of Texas, but what we get is nice, and enjoyed by all.

Well, gotta go play bunco tonight. Eloise is out of town - she and Jerry are on a cruise - but this is the first Friday of the month, so it's bunco night! Always fun, with old friends. Hmmm. We seem to be getting older all the time, too. Wonder what causes that? --Romeena

---
November 01, 2013 - Msg 95266: Bunco! Do you people know we have landed a man on the moon. There are telephones in everyone's pocket. We have gambling casinos in every major city. And all you know is bunco? Mrfoster aka?

---
November 01, 2013 - Msg 95267: Bunko, Is that anything like playing "Go Fish" or is it only played at the Fish's? Just wondering...

My (former) co-workers threw me a Mayberry themed retirement party last night. Bless their hearts they did a GREAT job! They all knew my Mayberry compelsion. A good time was had by all, and even saw a lot of my retired co-workers. I guess it is official now I can join them. They made a mock-up jail cell and had my picture made with each of them in jail....a lot of good memories...

G-F...
Ret. (officially)

---
November 01, 2013 - Msg 95268: Hello G-F: Congratulations on making it to your retirement. I would really like to see some pictures of the party. MrSawyer

---
November 02, 2013 - Msg 95269: G-F retirement...ea..I have 13 months...dec of next year...well will work till first of Jan 2015 to get the little extra...hey Romeena,Boo..Mr. Sawyer,MDC and all....gona go read the arvhives....catch myself reaching to type "Rev" in the hey group each time...ok...here at work till morning...prayers Maude...SPOT

---
November 02, 2013 - Msg 95270:
Very cool Romeena, thanks for sharing! Great stuff!
I don't think that I ever expressed this on the porch, but I am in Sterling's camp when it comes to Halloween, which really came from Hallow's een, or holy eve. When I was a kid, there was a "build up" of about three days, now it starts MONTHS before with grotesque haunted asylums, huge costume shops, etc etc, and a lot of satanic influence! In the 50s, we'd dress up as hobos or something else very simple, go to about 20 houses up and down the block of mostly people that we knew, and come home with a few apples, popcorn balls and a few asst. candies,; and not these huge pillow cases of stuff. In fact our church has an all saints party now for about the past 8 years, which I usually help out at, and the kids come dressed as everyone from from St. Francis to St. Susan. we play some bible games, the kids get the joy of dressing up and get some candies, and we all go home. Maybe I shouldn't share that here, but as I saw the holiday change,
I tried to go the other way. Just my humble opinion.
OK, back to Fall! It is finally nice out with days in the 70s and nights 50s! Woohoo!
G-F--did you get a stainless steel watch?
Not just anyone gets those ya know. ha
Congrats, glad they came thru.
Hello to all!
MDC

---
November 02, 2013 - Msg 95271: So what do I do with all this leftover candy corn? :)


---
November 02, 2013 - Msg 95272: I'm also in the camp for soft-pedaling the Halloween thing, but I think I said that already. I remember when it was just clean fun, cute little kids dressed in cute little outfits, toddling along with mom and/or dad in the background, and chirping "Twick or Tweet" at neighbor's doorways. Older kids might go out alone, and we "tricked" people a little by blowing noisemakers or scratching on screens or some such. I remember once when we got very brave and actually rubbed a bar of soap on a car windshield (it was parked on the street) but the man came out, wearing a watchman's uniform and really climbed our case. He was heading for work, couldn't see out of his windshield and he got a bucket of water and a sponge and made us clean it off, chewing us out the whole time as we worked! We never did that again. I lived in terror for days that my parents were going to find out. Anyway, we quit the trick or treat thing at around age eleven or twelve.

My parents never let us go in for the evil implications, in costumes or decorations, and Dale and I held the same line with our kids. Funny, cute, creative, but not satanic. My kids carried it on with their kids, too. I remember one year when my oldest grandson was three, he informed his mother he wanted to dress up like a present. He even brought her a big box and suggested she could wrap it in pretty paper. So she did, and made holes for his arms and his head to stick out (the bottom was open) and tied a big fluffy bow to his head. Cute as could be, and it was his idea.

Years ago, our pastor started having something at the church as an alternative to trick or treat. He called it a "Noah's Ark party", and suggested the children come dressed as animals. You wouldn't believe the adorable, creative costumes those kids wore. More recently, we've done the "trunk or treat" thing I mentioned before. Much safer for the kids.

Spot, I know what you mean. It still just doesn't seem real to me, that our REV has gone on before us. He was such a fine man, and had become such a dear friend to my family, and we all miss him. We only saw him once a year, but that's just the kind of man he was. As I've said before, to know him was to love him. My heart still breaks when I think of his family, and what they're going through. God bless them.
--Romeena

---
November 02, 2013 - Msg 95273: Well gang headed home to sleep....prayers...SPOT

---
November 02, 2013 - Msg 95274: Congrats again on your retirement GF. I am happy for you. I just had a coworker retire yesterday after 38 years of plugging away. He was all smiles.

Sure has been a nice Autumn here in the Rockies but that is supposed to change tomorrow. A cold front is due in and our temps are expected to drop a bunch.Oh well, it's November I guess so shouldn't be surprised. Could snow down here on the valley floor. We need the moisture though.

Well I think I just might make some pancakes this morning. I think I fancy some. I have to take my wife to the hospital in a bit for an infusion and then come home and do battle with all the leaves. I need to try and get them off the lawn and in the garden before it snows.

Asa

---
November 02, 2013 - Msg 95275: MDC, Come to think of it, No I did not get a stainless steel watch with 38 on it! That episode was just on TVland yesterday it made me laugh...
As for the left-over candy corn...ya plant it and it grows into a Kit-Kat bar...ha

SPOT, I think the same thing when I post, but I know REV is still watching over us here on the porch. I feel his "Have a Jesus filled Day" and think of him when I sit.. "In my pew"....
Some folks cast shadows, but some folks make a permanent "IMPRESSION" sorta like putting your hand in wet concrete it's there to stay...

I am going to Cleveland today to a event where Tim Conway will be at, I saw him and Don Knotts do a show in Marion Ohio a few years back, they were a awesome team.

Later...G-F

---
November 02, 2013 - Msg 95276: Good morning, porch! Beautiful clear day here, breezy and cool at 57°. I think Fall is about to descend, but the leaves haven't even begun to turn yet. This is going to be one of those years where nothing happens until we suddenly get one very cold night. The leaves will all turn brown in just a few days and the lawn will be covered several inches deep with them, to many for the mulching mower to handle. Oh well.

I've still got roses blooming everywhere, the pretty things. The "Peace" rose just outside my window has sent up one long cane, and there's a fat bud right on the top. I hope it gets to open before a frost nips it. Of course, Angel Face is still covered in blooms. What a great little rose!

Well, better go feed my faithful canine companion, and I might even find something for myself. I'm usually not a breakfast person, but I'm a bit hungry this morning. Blessings, everyone! --Romeena

---
November 02, 2013 - Msg 95277: Arrgh! That's "too many" up there. Drat this keyboard, with the sticking keys. I'm going to replace it - today! --Romeena

---
November 02, 2013 - Msg 95278: Y'all remember to set your clocks back one hour tonight!

*******************
possum under a rock

P.S. Congrats, G-F!!

---
November 02, 2013 - Msg 95279: You know, that Fleet family is pretty talented. With Bobby and Freddy having their own bands. MrSawyer

---
November 02, 2013 - Msg 95280: Happy Saturday porch, been busy today, laundry, vacuuming and general chores. It's been a nice fall day, kinda cool and windy. Leaves are falling from the trees pretty quickly now. Mr. Maude will have his work cut out for him this week. It generally takes at least 2 or 3 rounds of leaf raking to get them all up.

I have made some BBQ today and slow cooked it in my crock pot. Made some slaw and will have some French fried potatoes as well. ya'll come on over tor supper.

Remember for those who are on the daylight savings time to turn your clocks back tonight.

Gotta go take my dog out, she is pawing at my leg.

Prayers and blessings to all.
Big Maude

---
November 02, 2013 - Msg 95281: Not me possum! ha
MDC

---
November 02, 2013 - Msg 95282: Got to meet Tim Conway today, he told many stories of working with Don Knotts and others he is still as funny as ever. It was worth the trip to Cleveland to see him and the other former Cleveland late nite movie hosts. I guess TOM would be the only other one to know what I was talking about.
Maude send some of that BBQ my way with some of those French fried taters, I like French fried taters ah huh....

G-F...

---
November 02, 2013 - Msg 95283: G-F, the BBQ is on its way!
Big Maude

---
November 03, 2013 - Msg 95284: Good morning y'all front porchers: You know, I always wanted to wear a pair of Sheriff Taylor's boots. Would any of y'all know where I can buy a pair? MrSawyer

---
November 03, 2013 - Msg 95285: BBQ?...Maude save some for my lunch tomorrow.....will swing by when I get off wk at 6am....here in just a bit...well slow night here at the ole-power company...hed to work 13 hrs tonight instead of 12...hello there asa,G-F....Romeena you been working any nights ?..well let me get the reports ran on this comp...yall have a blessed Sunday...will go home and gona try to be up by 10 for preaching....then lay down for a nap...back at 6pm ...then no more weekends for 2 months...ok....peace and good will....SPOT

---
November 03, 2013 - Msg 95286: Good Sabbath my porch family. I pray your day will be a good one.

Hey to Spot. You had to spend that extra hour working huh? I slept right through it. Well klnd of. It takes me a week or so to adapt to the change.

Not sure where you might find those boots MR. Sawyer. You better check with Lucy first and make sure she is ok with you wearing them.

Big Maude, if you'd send me some of that bbq and slaw, I'd be beholden to you.

No snow yet but it surely is blowing out there. Got all my leaves gathered up yesterday except for the quaking Adobe. They won't drop until later in the month. But I threw my back out doing it and now I'm walking crooked. No preaching for me today I reckon.

Boo, I just don't cotton to your studying. It's keeping you away from the porch and I don't like it one bit. :(

I watched "Family Visit" yesterday. I think that is my favorite non Barney episode. The fellow who played Uncle Ollie was cast perfectly. And begs the question, who left Mayberry quicker, Uncle Ollie when he thought Andy was going to utilize him in a man hunt, or MR. Wheeler when he thought Andy was going to make him his Uncle. In both instances them fellers left town in a mighty hurry. LOL

Well I better go take a muscle relaxer. I don't like taking them during the day because they really knock me out, but they do seem to unknot my back so I reckon they help.

Prayers for all for a good day.

Asa

---