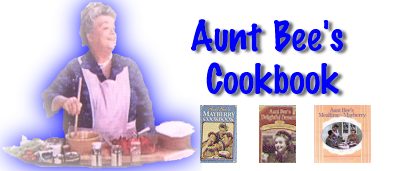 Baked Goodies
Aunt Bee's/Clara's Nesselrode Pie
Posted by: Floyd on 05/31/02 08:35:26 EDT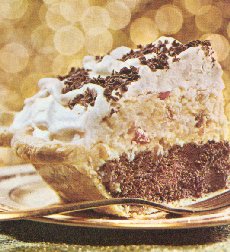 Aunt Bee's/Clara's Nesselrode Pie

4 teaspoons unflavored gelatin
1/2 cup sugar
1/4 cup cornstarch
1/2 teaspoon salt
2 cups milk
6 egg yolks, slightly beaten
4 ounce bar sweet cooking chocolate, grated
1 teaspoon vanilla
1/2 teaspoon rum flavoring
10 ounce jar Nesselrode
3 cups chilled whipping cream
* 1 stick or 1/2 packet Betty Crocker pie crust mix


Preparation Tips:
Prepare 9 inch Baked Pie shell as directed on package. In medium saucepan, mix gelatin, sugar, cornstarch, salt, milk and egg yolks. Cook over medium heat, stirring constantly, until mixture thickens and boils. Boil and stir 1 minute. Pour 1 1/2 cups of the hot mixture into bowl; set aside and cool.

Reserve 2 tablespoons of the chocolate for topping; blend remaining chocolate and the vanilla into hot mixture in saucepan. Cool completely.

Line 9 inch pie pan with waxed paper. Stir rum flavoring and Nesselrode into plain mixture in bowl. In chilled bowl, beat 2 cups of the cream until stiff; fold one half into each mixture. Pour chocolate mixture into baked pie shell; pour Nesselrode mixture into waxed paper-lined pan. Chill each until firm.

Loosen edge of Nesselrode layer; invert layer on chocolate filling. In chilled bowl, beat remaining cream until stiff. Spread over pie, covering completely; sprinkle with reserved chocolate. Serve immediately.

*Other Crust Options:
Vanilla-wafer Crust:
Combine 1 1/4 cups fine vanilla-wafer crumbs and 1/3 cup melted butter or margarine. Press into buttered 9-inch pieplate; chill till firm, about 45 minutes.

Graham-cracker Crust:
1 1/2 c Graham-cracker crumbs
6 tb Butter or margarine,melted
1/4 c Sugar
Preheat oven to 375'F. If you would like to make your own graham-cracker crumbs, pulverize crackers in blender or in food processor with knife blade attached as manufacturer directs; or place them in sturdy plastic bag and roll into fine crumbs with rolling pin.

In pie plate or bowl, mix crumbs with remaining ingredients. If you like, set aside 3 tablespoons mixture for topping. With hand, press mixture onto bottom and up side of pie plate.

Chill piecrust well; Fill as recipe directs or with chilled pie filling; top with reserved crumb mixture or garnish as recipe directs.
Return to Recipe List
---
Return to
Aunt Bee's Cookbook menu