To Subscribe click here
To Unsubscribe click here
---

Volume 9, Issue 1


---

---

January 28, 2009

---
If you cannot view the HTML newsletter (photos), click here to read it at our Web site.
*********************************************
The eBullet
An Online newsletter of
"The Andy Griffith Show" Rerun Watchers Club (TAGSRWC)
Volume 9, Issue 1
January 28, 2009
*********************************************
Welcome to our first issue of The eBullet for 2009! Here are highlights of what has been going around Mayberry lately, and a look at what's on the horizon for this year.
**** Floyd's Barbershop Bulletin Board & Event Calendar ****
* Now-Feb. 15: Ronnie Schell performs in the musical-comedy revue Don't Leave It All to the Children at Hollywood Playhouse in Hollywood, Fla. For more info, visit http://www.hollywoodplayhouse.com/.

* Mar. 5-8: 12th Annual George Lindsey UNA Film Festival in Florence, Ala. Details TBA. Updates at http://lindseyfilmfest.com.
* Mar. 7: Mayberry Comes to Grace Fellowship 2, featuring David "Mayberry Deputy" Browning, Allan "Floyd" Newsome, and other Mayberry tribute artists and entertainment, from 10 a.m. to 3 p.m. For more info, call 561-333-4222, ext. 232.
* Apr. 25: David Browning entertains at the Talent Show fundraiser at Berea First Baptist Church in Greenville, S.C.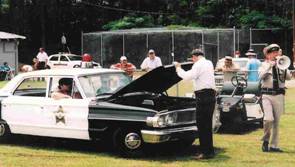 * Apr. 30 and May 1: Mayberry-Themed Fundraiser for Eagles' Wings featuring a Golf Tournament including celebrities on Thurs. and a Dinner, Auction and Mayberry Show in the Zone at Bryant-Denny Stadium in Tuscaloosa, Ala., beginning at 6 p.m. on Fri. Stars and details TBA. For more info, visit http://eagleswingsoftuscaloosa.org or call 205-345-5484.
* May 13: It's going to be BIG when David Browning patrols the Small Business Expo in Sanford, N.C.
* May 29: Get ready to rumble when David Browning rolls into the Salem Avalanche baseball game in Salem, Va.
* May 30: Relax and enjoy yourself while David Browning is on patrol at the Clinch River Festival in St. Paul, Va.
*June 3: Don't dare miss David Browning at the DARE Graduation in Rocky Mount, Va.
* June 6: Yoo-hoo! Do you know who should see David Browning at the Jane Lew Celebration in Jane Lew, W.V.? You, that's who!
* June 25: We don't know whether he'll be a pinch hitter and crawling the bases, but David Browning will be at the Blue Crabs baseball game today in Waldorf, Md.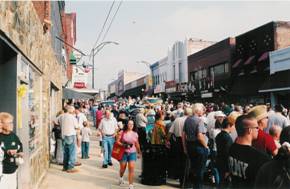 * July 11: 9th Annual Mayberry Squad Car Nationals and 5th Annual "Mayberry Comes to Graysville" festival in Graysville, Ala. Details TBA.
* Aug. 8: Maggie Peterson Mancuso joins two of her TV brothers, Doug Dillard and Rodney Dillard, and their band for a performance at the Third Annual Mayberry in Troy, a fundraiser for the Montgomery County DARE program in Troy, N.C. More details TBA.
* Sept. 24-27: 20th Annual Mayberry Days in Mount Airy, N.C.
Details TBA, but tickets are available online now for certain parts of the festival at http://www.surryarts.org.
**** News of Cast & Crew ****
Andy Griffith read a poem written by his wife Cindi for the inauguration of North Carolina Governor Bev Perdue on Jan. 10. It was a big hit with the thousands gathered for the occasion.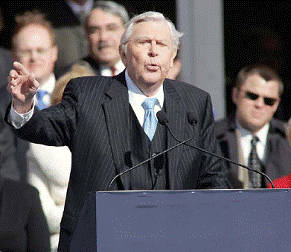 Frost / Nixon, the latest film directed by Ron Howard, has been receiving great reviews, has many award nominations and several wins and is doing well at the box office. Among the award nominations are ones for Best Director and Best Picture Oscars.
Look quick in Frost/Nixon and you can spot Rance Howard as Ollie, a photographer at the White House. And Clint Howard has a nice part as the Lloyd, the floor director for David Frost's interviews with Richard Nixon.
Also, Ron's Angels & Demons, the sequel to The Da Vinci Code that stars Tom Hank, has a release date set for May 15. And Ron is producing a planned Arrested Development movie, which he might also direct. (Yeah, but he might not.)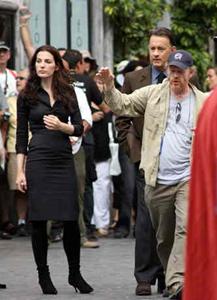 Ron Howard on the set with Angels & Demons stars Ayelet Zurer and Tom Hanks.
George Lindsey has been in the studio for some voiceover dubbing for a TV pilot he shot with Ray Stevens. There's no word yet on when the pilot might be made available for viewing.
Betty Lynn reports that she's doing fine and is wintering well in Mount Airy, N.C. After more than sixty years in L.A., Betty had become used to not wintering at all, but her childhood winters in Kansas City prepared her for the rediscovery of the wonders of seasonal changes.
TAGS associate producer and personal manager Richard O. "Dick" Linke and wife Bettina became proud grandparents for the second time with the arrival of Elle Marie, daughter of their daughter Bettina Marie and her husband earlier this month.
We're sad to report the passing of legendary actor Pat Hingle, who died Jan.3, at his home in Carolina Beach, N.C., after battling blood cancer. He was 84.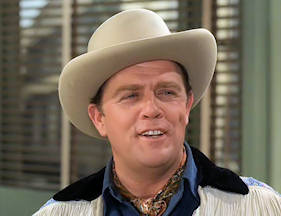 Though he was a star of Broadway, more than 50 movies (including four as Commissioner Gordon in Batman movies, three with Clint Eastwood, and several Oscar nominees and winners), and about 200 hundred TV segments, Mayberry fans remember his colorful portrayal of Fred Gibson in "Wyatt Earp Rides Again" (Episode #179).
His refrain of, "The man who can fight is the man who is right" still echoes through Mayberry." Pat Hingle himself was a fighter, in both World II and the Korean War.
Martin Patterson Hingle was born in Miami on July 19, 1924. In 1959, he survived a 50 foot fall down an elevator shaft in his apartment building. That fall caused life-threatening injuries that interrupted his career for over a year. He lost a finger and some key roles on stage and in film, but once he recovered, his career continued to rise to the top floors of his profession.
Pat Hingle is survived by his wife Julia, three children from his first marriage, two stepchildren, and two sisters.
**** Chapter Update ****
We have one new chapter since the last eBullet:
Mayberry County Sheriff's Office Ottawa, Ont.
That brings our total number of chapters founded to 1,337 and further solidifies our internationality. If you're interested in starting a chapter of TAGSRWC, all you need to do is choose a name that hasn't already been picked, and submit it with a list of your founding members by U.S. mail.
What you do as a chapter is entirely up to you. Your group can do as much or as little as you like. Or write to us also if you would like to contact a chapter near you. Our address is TAGSRWC, 9 Music Square South, PMB 146, Nashville, TN 37203-3211.
**** Merchandise Update ****
Phone Orders
In addition to accepting orders online or by mail, our Weaver's Dept. Store has a phone number FOR ORDERS ONLY (615) 604-1298. The phone number is generally in operation from 9 a.m. to 6 p.m. CT Monday through Saturday. Please call this number only for ordering or for inquiring about orders placed by phone. All inquiries about online orders and mail orders should be made online and by mail, respectively.
NOTE: This order number does not ring to TAGSRWC HQ, so you shouldn't call this number with questions about general fan club operations, trivia or various events, etc., but only to place an order by phone or inquire about orders placed by phone.
Here are some highlighted items. And browse the complete lineup of items at Weaver's Dept. Store at http://www.iMayberry.com.
* Four New T-shirt Designs for 2009!
http://www.weaversdepartmentstore.com/index.php?category=3
We have four brand new T-shirt designs in the Apparel Section of Weaver's. All are available in adult sizes Small to 2X-Large. They're $17 each and made of sturdy 100% preshrunk cotton. We think they add good fun to our lineup of licensed Mayberry T-shirts!
Here's a quick look at the four new designs: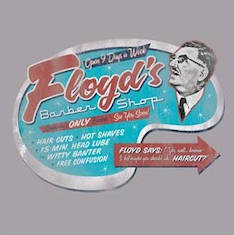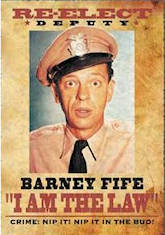 Floyd's Barbershop Re-Elect Deputy Barney Fife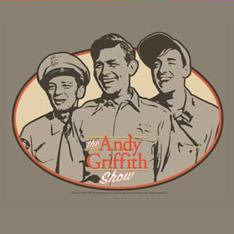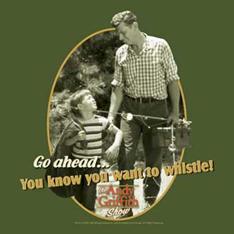 Mayberry Trio Mayberry Whistlers
And the Apparel Section of Weaver's has sweatshirts, Goober beanies, and more than 20 designs of T-shirts (most available in Adult sizes Medium through 2X, and several also available in Small).
* 2009 Andy Griffith Show Wall Calendar $14.00
http://www.weaversdepartmentstore.com/index.php?category=44

After having all color photos in the 2008 calendar, this 2009 edition turns back the clock and has all black-and-white photos, all of which are also from the black-and-white seasons (1960-65).
There's a nice variety of Mayberry characters in this calendar. In addition to Andy, Barney, Aunt Bee, Opie and Gomer, there are photos of Goober, Floyd, Fun Girl Daphne and even Mr. McBeevee. Several of these photos have never before been published.
Also, if you haven't gotten your 2007 and 2008 Wall Calendars, we still have a very few left of each, including in a special combo offer of the 2008 and 2009 calendars for only $22.00. These wall calendars have proven to be quite collectible. We were still selling 2004, 2005 and 2006 editions until we sold out last year. (And we even had a few 1989 and 1992 editions that we sold until a couple of years ago.)
* The Incredible Mr. Don Knotts $27.00 $22.00
Released Last Fall and Still Available at a Really Nice Discount!
http://www.weaversdepartmentstore.com/index.php?category=26
This brand new, oversized 320-page hardcover book (coffee-table style) is compiled by Steve Cox and Kevin Marhanka. The thoroughly researched book has lots of interviews with people who worked with Don Knotts, and it has more than 200 photos, including a 16-page section of color photos.
It's a great gift for any Barney Fife and Don Knotts fan to give or receive. And best of all, we've got it for $5.00 off the cover price right out of the gate!
As Barney himself said, "Aw, big ain't the word for it!"
* And Weaver's also has nice deals on great DVDs of favorite Don Knotts movies—the ideal accompaniment to this fascinating book about Don's film career:
* Don Knotts 4-Movie Reluctant Hero DVD Pack $29.00
http://www.weaversdepartmentstore.com/index.php?category=73
Featuring The Ghost and Mr. Chicken, The Reluctant Astronaut, The Shakiest Gun in the West and The Love God? This super Hero collection of four classic Don Knotts movies from the 1960s on DVD is hard to beat. You get all four movies for a nice price that even cost-conscious Barney Fife would jump at.
* The Incredible Mr. Limpet DVD $16.00
http://www.weaversdepartmentstore.com/index.php?category=73
This classic film starring Don Knotts and featuring the voice of Elizabeth MacRae is a wonderfully entertaining and innovative use of animation and live action. Includes an introduction by Don Knotts and other special features.
* "Gomer Pyle U.S.M.C." DVDs
http://www.weaversdepartmentstore.com/index.php?category=91*
The final season (the fifth) of "Gomer Pyle, U.S.M.C." is now available. We also carry the other four seasons. And we have a brand new Box Set of All Five Seasons of "Gomer Pyle," too. Individual seasons are $32.00 each (vs. a list price of $40.00). The Five-Season Box set is just $145.00 (vs. a list price of $190.00). Shazam indeed!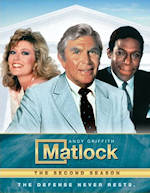 * And the Complete Second Season of "Matlock" has just been released. We also carry the Complete First Season. Both list for $49, but we've got them for just $39 each.
* Otis the Artist's Grab-Bag of Mayberry Art $25.00
http://www.weaversdepartmentstore.com/index.php?maincat=16
This special Grab-Bag, inspired by Otis and his artistic efforts with mosaics, pieces together several collectible Mayberry items that will add beauty and grace to any wall in home or office...or courthouse cell!
Each of Otis's Grab-Bags contains at least the following:
* 1 Officially Licensed Large Limited Edition Lithograph of Barney Sipping Soda by artist Brad Keim
* 1 2008 "Andy Griffith Show" Wall Calendar (it's officially a collectible now)
* 2 Oversized Mayberry event posters
* 1 Portrait of Otis (8 x 10)
All proceeds (not just the profits, but 100% of the $25 price) are going toward our annual support of the Surry Arts Council and its Mayberry Days festival in September in Mount Airy, N.C. So with a Grab-Bag purchase, you get a good deal while also supporting a good Mayberry cause!
* Classic Barney Necktie $25.00
http://www.weaversdepartmentstore.com/index.php?category=7
This tie is out of production, so it's now even more of a collectible. We've unexpectedly received one last small shipment from the licensed manufacturer. We've got just those few left, and then that'll be it for this popular fashion statement.
This silk necktie features Barney in black and white (it therefore coordinates with any outfit). Anyone who wears this tie is guaranteed to look suave and worldly. Wear it with the old salt and pepper and it'll be just right for the dips. Made with fine silk from the Orient.
* And More…
We have lots of CDs and books, including a very few copies of several classic, out-of-print Mayberry books, such as Mayberry My Hometown and Aunt Bee's Mealtime in Mayberry. (Both of those titles are in especially pristine condition and even still in their original shrink wrap from their publishers!)
**** Chapter News ****
We heard from bunches ("bunches, bunches") of chapters during the holidays. There were lots of gatherings of all sizes.
One of the longest-running holiday traditions is with the Barney chapter (Greensboro, N.C.). The chapter has its biggest chapter meeting of the year during the holidays. In addition to great fellowship and food, they have a Christmas tree of entirely Mayberry decorations. Chapter members exchange Mayberry-inspired gifts in the Secret Santa method (complete with a Fife-style Santa, aka Shelton Fields). No repeat gifts are allowed, and after about 20 years, that has become a fun challenge. The one exception to the no-repeat rule is Old Sam, an artificial fish that is their well-loved surprise "catch" for somebody every year.
Mayberry chapter (Knoxville, Tenn.) also has one of its larger meetings every holiday season.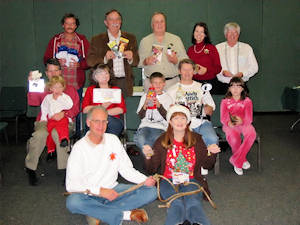 Members of Mayberry chapter at their Christmas party.
The chapter publishes a superb chapter newsletter called Mayberry Minutes.
And they have a fun Web site at www.mayberrychapter.com
"More Power to Ya!" chapter (Denton, Md.) checked in to assure us that they still watch at least one episode of TAGS every day. As they said, "DVDs are wonderful things." Yes indeed!
Web-Footed, Red-Crested Lake Loons (Allen, Tex.) held their annual meeting in November. They had a huge potluck meal, and watched "Man in a Hurry," "My Fair Ernest T. Bass" and "Fun Girls." They are excited to report that 14 new members joined their loony flock at the November meeting.
**** Answers to Miss Crump's Mayberry Quiz #77 ****
Well, Miss Crump was pleased to see that more multiple pupils got all of the answers right to the quiz questions submitted by substitute teacher Michelle Bryson in our last issue.
Because Miss Crump has decided to start doing a quiz every other (or perhaps even every third) issue instead of every issue, she's going to draw two names from a hat instead of just one. So, she'll be awarding just as many prizes as always. You'll have a better a chance of winning a prize each time, and need to do only half the quiz work. But she's not saying the quizzes will be any easier.
The two names she has drawn this time are Dennis Marshall of Baton Rouge, La., and Dennis Beal of Mayberry chapter in Knoxville. Both are previous trivia winners. Each receives his choice of any single item offered online at Weaver's. (Neither a complete series box set of TAGS or "Gomer Pyle" DVDs nor a set of Wooden Mayberry Building Fronts is considered a single item. Neither are sets of tin signs, grab-bags or combos.)
Here are the answers. Most of the answers (especially for Question 2) are compiled from the quiz responses of The Two Dennises.
1. When Aunt Bee is taking care of baby Evie Joy, Andy tells about how neighbors saw a washing machine "flying" out of the window at the Darlings' cabin.
2. Some of the aunts or uncles seen or mentioned in Mayberry (10 needed to qualify for a correct answer:
Aunt Bee, Andy's Uncle Ollie and Aunt Nora, Warren's Uncle Floyd Lawson, Helen's Uncle Edward, "Uncle Roger" Hanover, Aunt Bee's uncle the cattle rustler, Cynthia's Aunt Helen, Opie's Uncle Todd, Johnny Paul's Uncle Charlie Foley, all four Darling boys as uncles to Andelina, Aunt Bee's Aunt Martha, Uncle Bradford Taylor (Andy referred to him as Uncle Bradford even though he was Aunt Bee's cousin), "Old Aunt Maria", Aunt Rose Temple, ad for Mrs. Lesch's car stating the car was driven on Thanksgiving to Aunt Martha's, Andy and Barney singing "Go Tell Aunt Rhody, "Howard's Uncle Carl, Andy's Aunt Florence, Ellie's Uncle Fred Walker, Floyd being named for his uncle (mother's brother), Millie Hutchins' Aunt Hannah, Millie Hutchins' Uncle Phil, Aunt Bee's Aunt Louise, Otis's goat-like Uncle Nat, Chinese restaurateur Jack's Uncle Charlie, Goober's chain-letter-receiving Aunt Floy, the great aunt who supposedly gave George Jones the map to Ross's Treasure, "Uncle Henry," Wheeler, and Ferdie's Aunt Clara.
3. According to Floyd, Andy hid in the barn at his first dance, but Andy says it ain't so.
4. As the Church Organist must know "Love Lifted Me" is the hymn on page 256 of the church hymnal in Mayberry.
5. Mr. Foley told Aunt Bee that "Einstein" was a dropout.
BONUS: Places where license plate number SD 561 is seen.
1) In Mrs. Lesch's garage (Andy and Barney hid behind a car with that plate)
2) Willard Foster's Lincoln
3) Spot the Talking Dog could probably tell you he saw this plate at Goober's garage
4) The car driven by crooks breaking into "The Big House"
5) The plate must be jinxed because a car with it is back getting service from Goober when Andy drops by after The Ball Game with Mt. Pilot
A big thank-you again from Miss Crump to Michelle Bryson for submitting this fun quiz! Look for another quiz from Miss Crump at the end of the school year (in our May issue.)
**** Post Note ****
If you ever miss receiving an issue of The eBullet, you can always catch up by reading it in the eBullet Archives in the Newsletters section at iMayberry.com. Each issue is usually placed in the Archives within about a week of its being distributed
Between issues of The eBullet, keep up with the goings-on in Mayberry with the daily "Who's Been Messin' Up the Bulletin Board?" Digest. It's a free subscriber list that consists entirely of comments, newsflashes, and questions and answers from subscribers. You can sign up for that list by going to the "Mailing Lists" link at http://tagsrwc.com. It also has its own password-protected Archives where you can follow the ongoing stream of messages.
TAGSRWC also publishes Weaver's Newsletter in more-or-less alternate months to The eBullet. Like The eBullet, the Weaver's Newsletter is free. Its focus is mainly on new Mayberry merchandise and collectibles and quick newsflashes. To sign up, go to: http://mail.weaversdepartmentstore.com/mailman/listinfo/newsletter_weaversdepartmentstore.com
TAGSRWC's other main vehicle for Mayberry information is simply our Web site at http://www.tagsrwc.com (and its sister site http://www.iMayberry.com. Both sites have extensive content and links for just about everything a Mayberry fan might be looking for.
The next issue of The eBullet is scheduled for March, with a Weaver's Newsletter planned for February.